During their Aug. 14 meeting, Lynnwood City Councilmembers were both united and split on how to use the city's remaining American Rescue Plan Act (ARPA) funds. The council began the evening with about $810,000 in ARPA dollars to allocate and $997,806 worth of requests for those funds, meaning they could not grant every request. In all, the council voted to support eight proposals totaling $643,155, leaving them approximately $144,000 to disperse in future meetings.
Most votes were unanimous but a proposal from the city's Human Services Commission to fund two mental health clinicians at Lynnwood schools was not — although it was approved by a 5-2 vote with Councilmembers Patrick Decker and Jim Smith voting against.
Most recently discussed in May, the human services commission proposal requested $199,657 on behalf of the Community Health Center, which will hire two full-time mental health clinicians. The clinicians will be assigned to Lynnwood schools, focusing largely on Meadowdale Elementary, Middle and High Schools that have expressed greater need for mental health services. 
Prior to council discussion, the request was supported by six people who testified during public comment. Some of them came from the Edmonds School District, including Board Members Carin Chase and Deborah Kilgore, Superintendent Rebecca Miner and Meadowdale High School Principal Dave Shockley. 
"I've had seven students in that 35 years experience untimely deaths. I had one student arrested at school for murdering a young neighbor boy." Shockley said. During those times of tragedy, their community had pulled together to help each other heal and move forward, he added. 
"As good as our counselors and support staff are, they are not therapists," he said. "They cannot provide ongoing mental support that these students need so I'm asking you to help us."
Other speakers said that the hardship that students had gone through during the COVID-19 pandemic had deeply affected them, creating an unprecedented need for mental health services. 
Councilmembers George Hurst and Josh Binda used the council comment portion of the meeting to support the proposals, while the rest of councilmembers aired their opinions during the portion of the meeting dedicated to ARPA distribution. 
Hurst began by referencing a previously discussed study of Edmonds School District students.
"Eighth-grade students– 48% said they were unable to stop or control worrying in the past two weeks," Hurst said, adding that 15% of students said they considered attempting suicide in the past year. A total of 9% said they "had no adults to turn to when they felt sad or hopeless," he added. Hurst continued by citing similar statistics for older students, with each percentage increasing as the age bracket increased. 
Binda thanked members of the Edmonds School District who had shown up in support of the request. Binda said that in his many conversations with local kids and educators, it was clear to him that this was a pressing concern. 
"These kids, they've been struggling," he said. "A lot of them have been struggling with a lot of issues that you would never see because they would never bring it to the table unless they have someone they can feel comfortable with. You know, to have a conversation, to really be able to dive deep into what's going on." Binda said that the city should be investing in its youth as the young people he'd interacted with had been innovative and bright.
Binda later motioned to fund the request for two mental health clinicians for Lynnwood schools.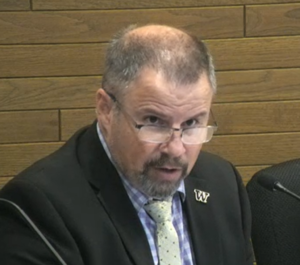 During his comments, Decker said that the Edmonds School District had recently cut music, drama and art classes at schools and many students district stated those programs kept them in school and maintained their mental health. He said it was interesting that sports programs were not cut, though he was also not in favor of cutting these as they were also important to students.
"After cutting these important programs, the school district is now asking for funding to hire staff. To me, this is similar to eliminating lunch for students and hiring staff to help them deal with being hungry. We don't have enough ARPA funds to meet the requests and the needs of our community.
"I have to ask the question: Why is Edmonds School District not funding these staffing roles that they have testified are so important to the students, despite having additional budget available after slashing the critical music and drama programs?"
When Decker aired these same frustrations during the proposal's initial request in May, he said he would not support the request while there were cuts in music and arts programs. This time, he added the restoration of school resource officers to his list of requirements as it would help the schools get ahead of gang recruitment efforts. 
The Edmonds School District faced a budget shortfall of $15 million for the upcoming 2023-24 school year, caused by termination of state and federal programs that funded additional school resources during the COVID-19 pandemic and lower enrollment rates following it. When individual schools and the district began disclosing the associated cuts, hundreds of concerned community members and students swarmed to the school district's board meeting to protest them.
At that time, board members stated that specific programs were not being targeted and each school would choose how it would use their lower budgets. Eventually, school board members chose to defy district policy by using a portion of its unassigned fund balance to restore some teaching positions. That's a decision that cannot be replicated next year, when about $8 million in further cuts are estimated to occur. Earlier during public comment, Board Member Deborah Kilgore asked that councilmembers look past any grievances they might have with the school district to provide mental health care to Lynnwood students.
Decker concluded by stating that the ARPA money would be better spent on other requests that councilmembers heard, such as those of the ACCESS project or Evergreen Recovery. Alternatively, he said, the request could be modified to only hire one clinician, at which point he and the council would consider if it would fit within their budget. 
Council President Shannon Sessions spoke next. She said she agreed with Decker's opinion on the importance of music, arts and sports programs but that she grew more comfortable with the budget cut situation after speaking to more people about the decision-making process and how the changes were playing out in schools.
"It's no secret that I'm 100% in favor of bringing school resource officers back to the schools," Sessions said. "I do not like that the school board took those out and clearly they need them because they're hiring other people to be there to protect our schools, but that said, it's not the same as [mental health treatment].
"That said, I'm going to vote in favor of this tonight because, sadly, and it's a privilege but, still sadly I work with the results of these things in our community and I deal directly with the families when these bad things happen," Sessions continued.
Hurst spoke again to address certain details of the proposal that came up during the remarks of fellow councilmembers. "I think there's confusion on this proposal," he said. "This is not a proposal by the Edmonds School District. It is supported by the Edmonds School District but this is a proposal by the Lynnwood Human Services Commission for the hiring of two full-time mental health professionals for [the Community Health Center]. They're not staff of the Edmonds School District." 
Hurst explained that the CHC would be hiring and managing this staff and no funds would be given to the school district. "This is actually a referendum on whether we're going to support a program that will benefit the kids that go to school in Lynnwood. That's pretty simple. You're going to support the kids. Do not conflate it with your concerns over the budget of the Edmonds School District." 
Councilmember Julieta Altamirano-Crosby said that the CHC had a good reputation and they had already managed this program, so she was in favor of the proposition. 
Smith said that his dissenting opinion on the matter had not changed since the initial proposal and in fact he had more concerns as the district had already received grants from Verdant Health and the county. 
Councilmember Shirley Sutton was the last to air her thoughts and spoke about her experience working in schools, where she called parents to inform them that their child had been hospitalized because of a mental breakdown.
"I've listened very closely to the yeas and nays for this proposal and when it comes to mental health, especially for our children who are killing themselves, who are being killed, it's important, I think, for us to take us another step back and maybe reconsider some of the things that we have already mentioned." Sutton ended with a request that the individuals in charge of the program come to speak with the council directly.
The council voted 5-2 to fund the proposal, with Decker and Smith voting against. 
The only other proposal without a unanimous decision was Lynnwood Police Department's request for $20,000 for its flex fund. Binda asked for clarification on what exactly the money would be used for. Decker reiterated some talking points from the previous work session, where Sgt. Lindsay Pool said that the flex fund was used for varied items/services for in-need individuals who the police encounter during their work. These include transportation to detox services, housing deposits or household items. As such, the expenditures are incidental and not something that could be specified.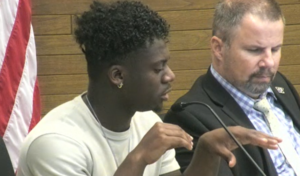 Sessions described the LPD's request as the exact purpose of ARPA funds, but added the flex fund needed to find a reliable and consistent funding source in the future. Smith motioned to amend the request from $20,000 to $25,000 and it was approved 6-0-1 with Binda abstaining. The amended amount of $25,000 was approved by the same vote count, with Binda abstaining again. 
The decision was unanimous for every other vote – though not all the proposals previously brought to the council were voted on during the Monday meeting.
Sessions moved to fund the ACCESS Project in the amount of $74,469. The ACCESS Project's purpose is to provide intervention and referral services to youth at risk of struggling from mental health challenges, possible criminal induction or gun violence. Functionally, ACCESS will serve as a hub to connect these youth with the assistance services they need.
Smith motioned to fund Evergreen Recovery Center in the amount of $252,720. The center will hire two nurses to increase the number of detoxification beds and services it can provide to people suffering from substance abuse disorders.
Altamirano-Crosby motioned to fund Clothes for Kids in the amount of $58,500. Clothes for Kids will provide a week's worth of clothes for students without means to afford it. The kids will be able to pick out their own wardrobe.
Hurst motioned to fund Keep Dreams Alive in an amount not to exceed $6,000. Keep Dreams Alive initially requested $5,855 to provide housing education courses for Spanish-speaking families. The courses will provide information about tenant rights and responsibilities, community resources and documentation practices. 
Sessions motioned to fund The Foundation for Edmonds School District in the amount of $43, 784. The foundation is continuing an on-the-job training program for disadvantaged youth likely to enter the workforce immediately after graduation. The program gives the teens work experience and will bring in income to support their families. The foundation also provides a scholarship for those students' two-year degree or vocational program.
Sutton motioned to fund Homage Senior Services in the amount of $3,000. Homage will be able to purchase and distribute food to ease the insecurity caused by food benefit reductions in March.
After the eighth proposal was funded, Smith noted that the discussion had gone over its allotted time slot of 45 minutes. He said that future allotments should be postponed to meetings in September because the council would be holding an executive session later in the evening. Councilmembers agreed. 
In other business, Hurst asked that a discussion be held in the future to discuss a lack of clarity in the city's travel policy, something Decker and Altamirano-Crosby agreed to. Sutton raised an idea that the council should look into tiny housing, a form of housing currently growing in popularity, as a potential source of residence for homeless community members. 
Finally, the council read a proposal recognizing Labor Day. Councilmembers concluded their meeting with an executive session – closed to the public — that involved a discussion on pending litigation. 
–By Jasmine Contreras-Lewis