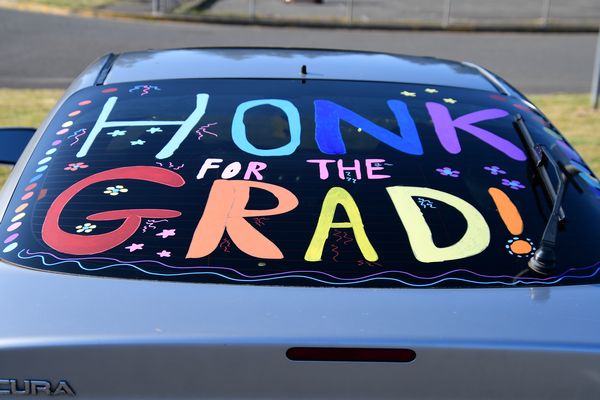 In a festive Friday afternoon ceremony, Edmonds Heights K-12 school honored the graduating class of 2023.
Started in 1996, Edmonds Heights specializes in parent-based alternative education in a system that includes all grades.  While many students come to Edmonds Heights from other schools, some have been at Edmonds Heights for their entire academic career.
"Edmonds Heights K-12 is not your traditional school," remarked Principal Kathleen Hodges as an estimated 250 parents and graduates began filling the seats in the school gymnasium for the school's graduation ceremony. "At our school, it's the parents and families that are the primary educators of our students, with our faculty and staff providing the critical support, resources and encouragement necessary to build an individualized learning program for each student. We offer an equitable, safe, engaging, nurturing environment where students, families, staff and educators join to enable every learner to thrive. Tonight we're graduating 48 students, some whom have been with us since kindergarten."
After welcoming attendees, Hodges introduced Edmonds School District Assistant Superintendent Dr. Greg Schwab.
Schwab offered congratulations on behalf of the ESD Board of Directors and administration.
"This is the culmination of 13 years of hard work," he continued.  "I want to particularly acknowledge the faculty and staff at Edmonds Heights – without their time and dedication we would not be here tonight.
"While this is the final time you will be together as a group, it is not the final chapter," he concluded. "You will be writing the next one. And remember that your success will not be measured solely by degrees and accomplishments, but also by the lives you touch along the way. I am confident that our community will be better because of you. May your futures be filled with boundless success and profound happiness."
Schwab was followed with a musical offering by graduating senior Zayn Labrador, who performed "Notturno" by Ottorino Respighi on piano.
Student speakers were next. Unlike at traditional schools, students are not selected or invited to speak at graduation, but rather students who wish to speak self-select for this honor.
The first speaker was Daaniya Junejo, who enthusiastically expressed her pride in the school, her fellow students and the journey they are completing together, and who offered heartfelt thanks to her family.
"You are my family, my special circle of friends," she said. "We share a strong bond that is unlike any other school. We support each other in our personal journey. We have just begun to change the world."
The next student speaker, graduating senior Gem Arbogast, spoke of how she found her direction in life through the performing arts program at Edmonds Heights.
"I have battled OCD (obsessive-compulsive disorder) all my life," she added, "and theater and the performing arts helped give me a creative way to not only live with that, but incorporate it and find strength in it. I hope that wherever we go in life, we'll find a place as nurturing as Edmonds Heights."
The final student speaker was graduating senior Brigden Rummler, who evoked the myth of Sisyphus, forced to push an immense bolder up a hill for eternity, only to have it roll back down every time he neared the top, at which point he would have to start again.
"We all have boulders to push," he said.  "But like Sisyphus we need to keep on pushing.  We are here today because we kept pushing, and I know this will continue wherever we go in life."
Next was a vocal musical performance of The Wheel by Chris Miller, performed by a quartet of graduating seniors.
Principal Hodges then addressed the graduates, reading the famous quote of Roman Emperor Marcus Aurelius: "You have power over your mind — not outside events. Realize this, and you will find strength."
"You will never know what you will need to confront in life," she said. "Don't be surprised at anything that may happen, but trust in yourselves to meet the challenges and you will succeed."
Next was a presentation of the traditional Edmonds Heights senior video composed of photo montages submitted by each graduate as they progressed from young childhood to this day, all conveying the message that each life has ultimate significance.
Diplomas were then presented to each student by the parents and families. Graduates lined up on one side of the stage, parents and families on the other, and as the names were read they approached each other at center stage amongst hugs, handshakes, kisses and tears.
When all had returned to their seats, it was time to turn the tassels, toss the mortarboards in the air, and move to the courtyard for a gala reception with parents, friends and teachers.
— Story and photos by Larry Vogel