Cascadia Art Museum Holiday Card contest
Cascadia Art Museum is known for its extensive and beautiful Vintage Holiday Card collection on display annually beginning in November. This year, local artists and creatives have been invited to participate in its first annual Holiday Card Contest.
Three finalists will be selected and their designs will be displayed alongside their Vintage Holiday Card exhibition throughout December. Museum visitors will vote for their favorite and the winning design will be announced in their newsletter and on social media. The winner will receive a $100 gift card to the Cascadia Art Museum Store.
Pick up an entry form at the museum or request by email. Entries are due before 5 p.m. Nov. 30.
~ ~ ~ ~
"Full Light and Perfect Shadow: The Photography of Chao-Chen Yang" First Solo Exhibition Comes to Cascadia Art Museum
Nov. 8–Feb. 11, Cascadia Art Museum, 190 Sunset Avenue South, Edmonds
Full Light and Perfect Shadow: The Photography of Chao-Chen Yang is the first solo exhibition and study of the art and life of Chao Chen Yang (1909–1969), an important Seattle photographer who gained national prominence in the mid-20th century. The exhibition runs Nov. 8 through Feb. 11, 2024, at Cascadia Art Museum.
Born in Hangzhou, China, Yang received art training at the University of Hsin-Hwa in Shanghai. After graduating, he became the Art Director for the Government Institute of Nanking. In 1933, he moved to Chicago as Chancellor of the Chinese Consulate and attended the Art Institute of Chicago.
Initially trained as a painter, he later used photography as his main medium for artistic expression.
In 1938, Yang was transferred to Seattle as Chancellor of the Chinese Consulate and became actively involved with the Seattle Photographic Society.
Besides his career, he was an influential art and photography instructor and worked tirelessly to advance Chinese culture in the United States.
Yang won numerous awards in important photography salons and became a Fellow of The Photographic Society of America, the Professional Photographers Association of America, and the Royal Photographic Society of Great Britain. He was a pioneer in color photography in the Northwest in both advertising and the fine arts.
The exhibition will be accompanied by a book written by Cascadia curator David F. Martin, 159 pages and profusely illustrated, published by Cascadia Art Museum and distributed by the University of Washington Press.
Martin and the leading authority on early Washington State art and artists. He pioneered the study of Northwest women, Japanese and Chinese Americans, LGBTQ+, and other minorities who had established national and international artistic reputations during the period from 1890–1960. His numerous publications have focused on regional painting, printmaking, sculpture and photography.
~ ~ ~ ~
"Lands Connected By The Sea" Opens at Gallery North
Works by Thomas Saknit
Reception: 2-5 p.m. Saturday, Nov. 11, Gallery North, 401 Main Street, Edmonds
Gallery North welcomes former member Tom Saknit, creator of Redacted Photography, as he presents his latest suite Mediterranean Memories: Lands Connected By The Sea.
While most might think of the sea as a dividing factor, isolating cultures from one another, the Mediterranean is an example of water as a cultural bridge. The seafaring peoples of the Mediterranean have exchanged goods, ideas, and inspiration for millennia. Each port city from Spain, through Italy and into Greece shows influence from cultures beyond the flowing horizon.
Whether you have traveled to the cities celebrated in this show, visited them virtually, or imagined their stony streets, you will be inspired by the iconic beauty and old-world charm that captivate so many hearts. Saknit's trademark approach to highlighting subjects while removing visual noise from his images reminds us of the impact of distilled memories, and the poignance of details lost.
His photographs invite us to linger, entering into an ongoing dialogue with each image, where the viewer recalls, imagines, and replaces the lost spaces that punctuate each canvas.
Mediterranean Memories runs Nov. 1-30. A reception will be held 2-5 p.m. Saturday, Nov. 11, where you can meet artists, enjoy light refreshments, and view this remarkable display. ArtWalk will be held 5-8 p.m. Thursday, Nov. 16; stop by for a visit to see this unique show any time throughout the month.
~ ~ ~ ~
EPIC Group Writers in a "Lightning Round" event
6 p.m. Thursday, Nov. 16, Edmonds Bookshop, 111 5th Avenue South, Edmonds
Edmonds Bookshop hosts local authors from the EPIC Group Writers in a "Lightning Round" event during Art Walk Edmonds. Ten writers representing genres from mystery to travel and children's story books to poetry will discuss or read from their work and be available afterward to chat and sign books.
Participating authors are Gerald Bigelow, Harriet Cannon, Paddy Eger, Keith Fryer, Kathleen Glassburn, Kizzie Jones, Wendy Kendall, Erica Miner, Valerie Ramer, and Judith Works, organized by EPIC Group Writers Board President Laura Moe. In the "lightning round" format, authors or pairs of authors will be given a set amount of time in which to read or share and then will give the stage to the next set of authors. Come for a fun, informative evening and support local writers and friends.
~ ~ ~ ~
Graphite Artists' sale
Works by Mike O'Day and Vicki Hone Smith
11 a.m.-5 p.m., Saturday-Sunday, Nov. 18-19, Graphite Arts Center, 202 Main Street, Edmonds
This event offers a unique opportunity to connect with the dynamic Graphite community of hard-working and dedicated artists and to see their artwork. The Graphite Artists' Sale will feature exceptional fine art and unique handcrafted items in various styles and media.
This annual event promises an array of one-of-a-kind creations that will make perfect holiday gifts. A portion of the proceeds from this sale will benefit the non-profit, Art Start Northwest.
Participating artists include Rainny Zhao, Amy Pleasant, Johanne Friedrichs, Bill Whitbeck, Sarah Crumb, Julie Perrine, Mike O'Day, Jill Owen, Richard Zhang, Ken Ketchum, Dana Len, Jenny Duntz, Scott Anstett, Jane Behrens, Rebecca Hartsook, Lisa Szilassy, Sue Robertson, Vicki Hone Smith and Missy Hancock.
Studio artist Mike O'Day, known for his whimsical garden art, gargoyles, and smile-inducing masks, says "I love working in my own ceramic studio where I get to greet the public each month during Art Walk Edmonds. It's fulfilling making sales directly to the public and being able to show customers the complete process of how a sculpture is created."
Vicki Hone Smith, an artist who rents a locker at Graphite, reflects on the benefits of the shared artist studio space: "Having a shared studio space at Graphite for the last year and a half has been the best thing I've done for myself as a photographer/artist.
"Being able to work at Graphite several days a week has enabled me to explore my artistic vision in ways I couldn't do at home. Working among so many talented artists, I am part of a family who support, encourage, inspire, and celebrate each other and our accomplishments. I see their art, as well as mine, flourish as a result."
While at Graphite for the Artists' Sale, guests are encouraged to visit The Gallery at Graphite to see the group show Narrative: The Art of Storytelling. Narrative features works by ten of Graphite's full-time resident studio artists. The Gallery at Graphite will be open all weekend for the sale.
~ ~ ~ ~
Artists Connect & Friends 2023 Holiday Gift Market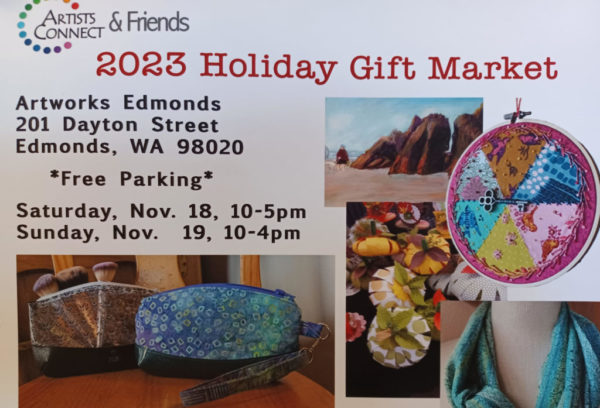 10 a.m.-5 p.m. Saturday, Nov. 18; 10 a.m.-4 p.m. Sunday, Nov. 19, Artworks Edmonds, 201 Dayton Street, Edmonds
More than 16 local artists will be participating, offering gift items from handmade chocolate to an award-winning children's book. The sale also includes pottery, woven, macrame, knitted, crocheted, and paper-crafted gifts, wood serving boards, jewelry, handmade journals, wall art and more.
— By Elizabeth Murray
Elizabeth Murray is a freelance writer thankful to call Edmonds home. When she's not busy wrangling her two kids (and husband), you can find her playing ukulele.