The Addams Family: a new musical comedy at Edmonds-Woodway HS
Thursday-Sunday, Feb. 23-26
Edmonds-Woodway High School Theater
7600 212th St. S.W., Edmonds
Can't wait for more episodes of Wednesday, the popular Netflix show? You're in luck! Edmonds-Woodway High School is performing The Addams Family, a comical feast that embraces the wackiness in every family. The original story centers around every father's nightmare: Wednesday Addams, the ultimate princess of darkness, has grown up and fallen in love with a sweet, smart young man from a respectable family – a man her parents have never met. And if that wasn't upsetting enough, Wednesday confides in her father and begs him not to tell her mother. Now, Gomez Addams must do something he's never done before – keep a secret from his beloved wife Morticia. Everything will change for the whole family on the fateful night they host a dinner for Wednesday's "normal" boyfriend and his parents.
~ ~ ~ ~
Two upcoming Mountlake Terrace HS Concert Band performances
Thursday, Feb. 23, 7-8:30 p.m.
Mountlake Terrace High School
21801 44th Ave. W., Mountlake Terrace
Saturday, Feb. 25, 5:30 -7:30 p.m.
Baguus Little Asia Restaurant
23511 56th Ave. W #107, Mountlake Terrace
Mountlake Terrace High School Concert Bands are performing at the high school on Thursday, February 23. All are welcome to attend this free performance! Additional information can be found here.
In addition, the Mountlake Terrace HS Jazz Combo will perform at Baguus Little Asia on Saturday, Feb. 25. Enjoy an evening of jazz and delicious food. The jazz combo will perform a two-hour set with a mix of standards and contemporary jazz. Arrive early for a good seat. More information is available on the band website.
~ ~ ~ ~
Celebrate St. Patrick's Day with a free Irish Dance class
Saturday, March 18, 10 a.m. (ages 4-6) and 10:30 a.m. (ages 7-12)
Our favorite Irish holiday is fast approaching, and the Edmonds-based Carroll-Henderson School of Irish Dancing is celebrating St. Patrick's Day with free open Irish dancing classes for all ages.  From the youngest dancers at age 4 to preteens looking for an energetic fitness class, all can hop on into the dance studio.
"Irish dancing is a living tradition that is meant to be shared and celebrated," said head teacher and owner Lauren Carroll-Bolger. "It is a community dance form which historically brought people together to socialize and enjoy time together. During this holiday, we are pleased to be able to bring children together to explore this energetic dance form together."
Irish dancing has been a mainstay of Irish culture since the earliest day of the Celts. The traditional music and dance scene were deeply entwined, as throughout the generations, locals would gather to play music and dance. The dance form evolved from its most traditional roots when the Gaelic League was founded in 1893 and promoted Irish language and culture, which included dance. At the Carroll-Henderson School, dancers learn the traditional, artistic and competitive aspects of Irish dancing.
Register online here.
~ ~ ~ ~
Cole Gallery announces Plein Air Washington winners and new works by Kathie Odom
The winner of the Plein Air Washington Artists' Winter Exhibition People's Choice Award was Mountain Melody, by Lolly Shera
The Best in Show winner was Winter on the Snoqualmie, by Jim Lamb
The show will be up at Cole Gallery, 107 5th Ave. S. in downtown Edmonds, through Feb 26.
View the gallery exhibition here.
View the online exhibition here.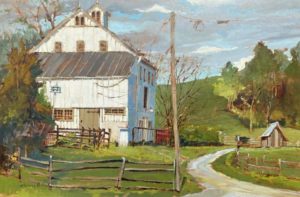 Also be sure to visit Cole Gallery to see Kathie Odom works on display now. As soon as Kathie came to Cole Gallery in 2022, her paintings quickly became a favorite of collectors. Her love of her surroundings in the mountains of East Tennessee and her respect for the people who live there radiate from each artwork. Kathie describes herself as a "Nostalgic Impressionist" to identify the subjects she chooses and her style.
In the preface of Kathie's new book, Let the Art Speak, Scott Jones (of Cole Gallery) writes:
"One of my favorite perks of working at a gallery is watching someone fall in love with a piece of art. Recently, we had a first-time visitor to the Cole Gallery. She stopped in front of four Kathie Odom paintings and spent a long time looking at each one. After a short chat and a little more viewing, she returned to Kathie's wall. I watched her expression and waited. She looked at me and said that there is something so familiar and comforting about her paintings. She went on to speak of the farmhouse she often visited as a child. After a silence, she exclaimed that this one painting was more than just about those fond memories. It made her want to experience it again, as an adult. She told me she had to buy it, and thanked me for the opportunity to do so. I love that!"
View Kathie's paintings online here.
~ ~ ~ ~
Edmonds Arts Festivals issues Call for Artist applications 
Submissions Due Saturday, April 29
The 66th Annual Edmonds Arts Festival (EAF) is accepting applications for juried Gallery Art and will conclude the call for artist applications on April 29, 2023. Juried Art includes: Painting, Mixed Media 2D, Prints, Drawings, Photography, Digital Art, Sculpture, Artisan Works, Miniatures and Small Paintings, as well as Small Artisan Works. To apply, follow this link.
The festival will take place June 16-18 at the Frances Anderson Center in Edmonds. EAF is one of the longest-running art festivals in the Northwest and draws more than 30,000 visitors to view 2D and 3D artwork displayed in three galleries. Each year, the galleries showcase juried art from more than 400 regional artists.
This year's EAF jurors are:
• Barbara Noonan: Paintings, Prints, Drawing and Mixed Media 2D
• Sam Scott: Sculpture, Artisan Works and Small Artisan Works
• Jennifer de Mello e Souza: Miniatures and Small Paintings
• Amanda Ringstad: Photography and Digital Art
Edmonds has the distinction of being Washington State's first Certified Creative District for its unified recognition of the importance of the arts across all sectors. Every artwork purchased at the Edmonds Arts Festival helps to fund scholarships and grants for community art projects and public art. For more information about the EAF, visit the website.
— By Elizabeth Murray
Elizabeth Murray is a freelance writer thankful to call Edmonds home. When she's not busy wrangling her two kids (and husband), you can find her playing ukulele and singing with The Band LeLe.