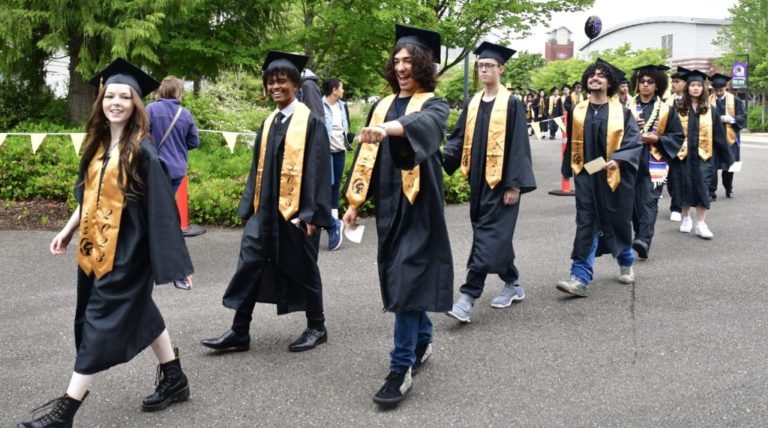 During an overcast Saturday afternoon at Edmonds School District Stadium, Lynnwood High School honored its 324 graduates with inspiring speeches, musical performances and, of course, the presentation of diplomas.
Principal Jesse Goodsky opened the ceremony by introducing Edmonds School Board member Keith Smith, who first welcomed the parents and other family members who had come to support their graduates.
"You should all take a moment and really be proud of the fact that you got your students here. Your children did an amazing job," Smith said.
Microphone in hand, Smith then walked over to the graduates and directly addressed them, sharing that 18 years ago, he was sitting in the same stadium as a graduating senior, and "it looked very much like this and probably the same chairs." In preparing his remarks for the graduates, "I thought to myself…what are the things that I now know at 36 that I wish someone would have said to me at 18?"
The first, Smith said, is "live for yourself. At the end of the day, it doesn't matter if somebody else looks at the decisions that you made and has thoughts about them. What's important is when you look at your decisions, you are happy with what you've done."
The second "is that life has no rules. I spent so much time of my 20s thinking that I was going to get a rule book at some point. And when I realized there weren't rules, it was a terrffying moment. Because I realized that we are all just doing our best.
"There is no right or wrong answer," Smith added.
Finally, "be bold," Smith advised. He pointed to the performances of baseball legends Babe Ruth and Nolan Ryan, noting that even though Ruth was known for his home run record and Ryan for striking out pitchers, Ruth "also had the most strikeouts of any batter" and Ryan had "the most walks as well."
"No one remembers Nolan Ryan's walks or Babe Ruth's strikeouts," Smith said. "We remember that they hit home runs and struck people out. Every time they made a mistake, it was a chance for them to learn. They took those errors and became better."
"So no matter what it is that you do, everything that doesn't work out the way you want, learn from that. Be a better person because you've made a mistake."
The program continued with speeches by three class valedictorians — Alvin Le, Jackson McCormick and Hannah Douglas.
Le explained that he was "one of those kids who had no idea what they wanted to do with their life." His father, however, told him he could be whatever he wanted to be if he took advantage of the opportunities presented to him.
One of those opportunities, Le said, was Lynnwood High School. "My time as part of the Class of 2023 has been a life-changing experience," he said. "I have made amazing friends here, friends that have gone through so much with me.
"The people we meet and the experiences we share together enrich our lives and shape our character for the future," Le added.
He also advised the graduates to remember the lessons learned in high school. "Let us carry forward the values of integrity, perserverance and passion. Let us dream big and have the courage to pursue those dreams relentlessly," Le said.
The second student speaker was valedictorian Jackson McCormick. He explained how he became depressed and increasingly isolated from his friends during the COVID pandemic, and continued to struggle even after returning to in-person learning. But then, a few months before graduation, McCormick said he "started to take control of my life instead of cruising on autopilot. I was tired of feeling like I didn't have friends. I was tired of not having when I wanted when it was achievable. I was tired of going the easy route and constantly settling. I wanted a healthy social life. I needed it."
McCormick admitted to regretting that he didn't take control of his life sooner, because he had missed out on both memories and connections with others.
"Students: I encourage every single one of you to live your life actively so that you can live it with purpose and direction," he said. "Time is a currency and in your life you are given a limited amount of it, and it is up to you to choose what to spend it on. So why spend your valuable time settling and letting others dictate your life when you have the ability to take control of your life in order to advocate for something that is meaningful for you?"
The final valedictorian speaker was Hannah Douglas. For a long time, Douglas said, she felt her own self worth "was defined by my academic accomplishments," thinking it was the only way to success. Eventually, she said she learned that "the most memorable and joyful parts of high school (were) the parts that left me emotionally and socially fulfilled.
"If I had to pick only one important message I've learned from my time at Lynnwood High School, it's there's no better answer to 'What do you want to be when you grow up?"besides than to be loved and supported," she continued.
"In reconsidering my identity, I found that we don't define ourselves by external accomplishments, but by the qualities of our character," Douglas said. "Ten or 20 years down the road, my fondest memories of high school will be from people — people that went out of their way to make me feel hopeful and happy. Because how we make others feel and the encouragement we provide is our greatest impact."
The faculty speaker, selected by students, was Vice Principal Justine Locke. She set the stage for her remarks by describing her work to achieve her dreams, earning a teaching degree later in life and now serving as a Lynnwood High administrator.
"Double-dog dare yourself to be courageous every chance you get," Locke advised. "Be not afraid. Fear will put your fire out. Whatever your passion, whatever your calling, write it, shout it, sing it, then step into it. Big step, small step, doesn't even matter — just take it. If you wait for all the things to fall into place first, you will move nowhere."
"Do what you can to hold on to that dream until it becomes what no one would have believed it could," she added.
"The world does not tell us who we are, we show who we are and what we came to do," Locke said. "Whatever good there is to be done in the world, go find it."
She closed by singing a heartfelt line from a familiar Blood Sweat and Tears song: "You make me so very happy. I'm so glad you came into my life."
The final student speaker was Kalyani Blackwell, who recited a poem that captured the challenges and growth she experienced during high school.
She then told her fellow graduates: "You all deserve all the happiness in the world. Be bold and love who you are. And take time to acknowledge your growth, no latter how small, because it's significant. It's important and you are important.
— By Teresa Wippel