At its June 26 business meeting, the Lynnwood City Council voted 4-3 to hire an additional deputy city clerk.  
The council was briefed during last week's work session on the city clerk's office's request to hire an additional deputy city clerk in response to an increasing number of public records requests. Despite this, the discussion to hire the deputy clerk lasted over half an hour, with the conversation mainly focused on the exact wording used to make the motion. The request came from Councilmember Jim Smith, who repeatedly insisted that the item should be brought back at the next meeting. 
Council President Shannon Sessions and Councilmember Patrick Decker began by stating their preference to keep administrative city hires to a minimum but acknowledged the need for additional city staff as providing public records is a legal obligation of the city. Councilmember George Hurst, who later voted against the request, suggested that the city hire a staff member whose sole responsibility would be to handle records requests. 
Decker moved to approve the addition of one city clerk position. Smith contended that the position already existed so that motion would not do anything. Smith continued by saying that the council needed to move funds between accounts. That led councilmembers to question the nature of what the department was actually requesting. 
"Can we move forward? I mean, I feel, I'm sorry to interrupt but we're going in circles and circles, so can we move forward?" asked Council Vice President Julieta Altamirano-Crosby.
"Well actually, all the information that I was bringing up is moving forward," replied Smith, who continued by asking about the process of moving funds between accounts.
Finance Director Michelle Meyer attempted to remedy the issue during a period of silence. "I think the intent of council's action, no matter how you phrase it, for us [the finance department], I think is clear. If you want us to add an additional employee and allocate the budget for it, then we'll make sure we do the appropriate things on the backend."
Altamirano-Crosby later asked that Smith make the motion with whichever wording he preferred. "Whatever language you want," added Sessions. Councilmember Josh Binda then made the motion to hire an additional city clerk, which was approved 4-3. Binda, Sessions, Decker and Altamirano-Crosby voted in favor while Hurst, Smith and Councilmember Shirley Sutton were opposed.
Following last week's public hearing on the 2023 Comprehensive Plan amendments – which highlighted concerns from several community members —  the council unanimously decided to move forward a request from the Housing Authority of Snohomish County (HASCO). The housing authority's proposal was the only 2023 Comprehensive Plan amendment proposed,  and it involves rezoning an area as part of a plan to redevelop two apartment complexes into a single complex with more units. Councilmembers were careful to specify that by approving this, they were not agreeing to the rezone or redevelopment– only that the option would be further explored as planners researched the decision.  
In other business, the council also unanimously approved a multi-jurisdictional agreement designed to improve communication and cooperation among Lynnwood and other agencies — including Sound Transit, the City of Everett, Community Transit and Snohomish County — during Sound Transit's Everett Link Extension Project. Much like the 2023 Amendment vote, no binding obligations were made. The agreement focuses on creating a framework that will streamline bureaucratic processes during construction. 
Later, the council heard from Councilmember Smith about changing the May 8 meeting minutes. He said that he felt certain things were unclear in the minutes, that they did not adhere to Robert's Rules of Engagement and that he wanted to meet with the city clerk. Hurst stated that the parliamentarian, City Attorney Lisa Marshall, should be involved in revisions as well. Smith agreed to this, though he continued by stating that the city clerk made the minutes and that is why he wanted to work with the clerk. Sessions asked Marshall if the minutes were legal and appropriate for parliamentary procedure.
"First of all, the use of Robert's Rules is intended to be a tool for you to have efficient meetings," Marshall said. "Parliamentary procedures are not laws; they can be suspended in the meantime with a vote. And you can grind yourselves to the ground trying to beat each other over the head with parliamentary procedure and that, in my view, is not using parliamentary procedure as a tool. It is using it as a way to prolong and protract something that should be shorter and more efficient." 
Similar to the conversation about city clerk staffing, the wording complicated the intent as the May 8 meeting minutes were already approved on May 22 and there was no motion to "unapprove" them. 
"You'd make my life easy if you just said, 'oh, we want to have garbage notes'," Smith later added.
Eventually, in a 4-3 vote, councilmembers allowed Smith to bring revised notes back in two weeks, with Sutton, Smith, Altamirano-Crosby and Decker voting in favor and Sessions, Binda and Hurst voting against. 
During new business, Sessions said that it was brought to her attention that, per current rules, there was no difference between excused and unexcused absences and reminded councilmembers of the council's attendance regulations. 
– Councilmembers can only be absent four times in a year. Missing five or more meetings is grounds for pay to be revoked. 
– If councilmembers miss three meetings in a row, they will be removed from their position. 
This prompted Binda to mention that his two absences last week were related to city council business. 
"I wonder how that works with being excused because it wasn't that I was missing or absent, it's that I was on a conference as a City of Lynnwood representative and so I think that shouldn't qualify as an absence," said Binda, whose previous Zoom attendances prompted new Zoom attendance regulations for councilmembers.
"It was an absence," said Smith.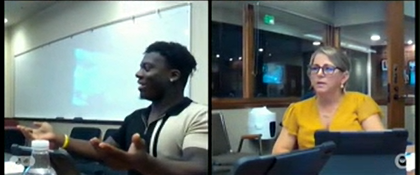 "Just to be clear, we all have choices about where we are and when and what," Sessions said. "Why some of us didn't go to that is we had two meetings that week, and also you still had the opportunity to be on Zoom. But you cannot be on Zoom, as you know the rules, when you're in another meeting, so if you're in another meeting, then it's your choice whether to be in that meeting. It's not mandatory. 
This," Sessions said as she gestured to the table" is your first priority."
Binda restated that he was representing Lynnwood by going to that event and that was work for his position. Smith said that attending a meeting was not necessarily representing the city council as the council had not asked him to represent them. Decker added to this point by saying that representing the city was something that the council would agree upon, not that a city councilmember could simply attend and express their own views. 
Finally, the council approved Robert Leutwyler for Planning Commission Position 4 and announced a proclamation acknowledging Independence Day. 
— By Jasmine Contreras-Lewis