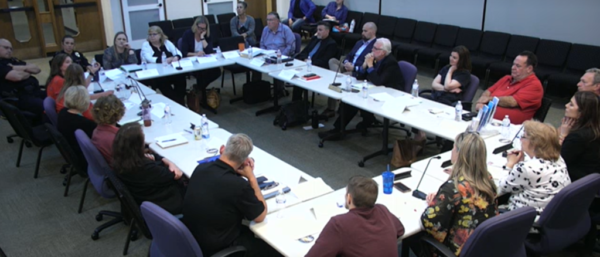 Lynnwood city leadership spent three hours speaking with stakeholders last week in a roundtable event about addiction and homelessness, hosted at Lynnwood City Hall. While the conversations didn't solve homelessness, they brought forth many perspectives and observations of the ongoing crisis, its effect on Lynnwood and the successes and failures of the current system. It also allowed people to connect and share resources or information. 
The June 21 meeting began with self-introductions, which allowed participants to provide explanations of what their organization's role was and general thoughts about the homelessness/addiction crisis. 
Attendees included representatives from social services providers, county government, South County Fire, Lynnwood police and six of seven Lynnwood city councilmembers. 
Also attending to share their lived experiences with addiction/homelessness were two residents: Alex Hendrick, who talked about a podcast he started to have open and destigmatized conversations about addiction after watching his mother's struggles, and a man who used his first name, Mike. 
"I lost my home due to the greed of drinking and drugging. So my end result was living in a van," Mike said. "When I experienced life after being incarcerated for 35 days, I began to understand that I needed help and my problem was, where do you go?"
One central theme among speakers was a need for affordable housing, as those without a home struggle with finding stability and safety in their lives. Another key issue was the revolving cycle of addiction and the importance of providing long-term care rather than brief instances of assistance. A lack of trained behavioral health professionals and case managers limits the amount of help that community organizations can provide.
Many people spoke of worsening conditions following the COVID-19 pandemic as the current pool of resources and manpower was insufficient for higher quantities of people in need, especially amid increasing fentanyl use.
Finally, a conversation about schools revealed that many individuals thought parents should receive more information about drugs so that they could identify alarming behavior in their children.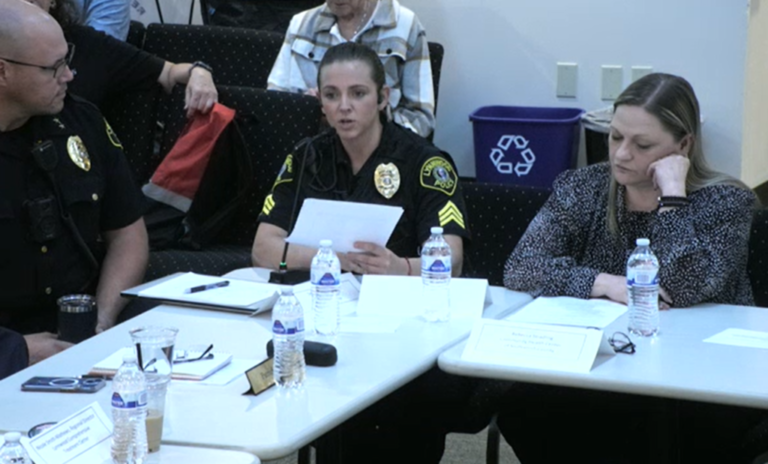 Deputy Chief Cole Langdon and Sgt. Lindsay Pool spoke at length about the Lynnwood Police Department's desire to assist unhoused individuals, with Langdon stressing the importance of relationship building in the community to find solutions for addiction and homelessness. Pool gave examples of resources that police could redirect people to, such as the Lynnwood Hygiene Center and food banks. She also mentioned that mental health help was lacking and those willing and able to seek assistance during crises can't be directed anywhere except the emergency room. According to Pool, many elderly people who are homeless sleep in libraries as they do not have enough income to afford housing, and they would only receive $100 monthly from Social Security if they entered senior housing. 
Community Health Center of Snohomish County's Behavioral Health Director Rebecca Stradling shared harrowing facts from a 2019 study: 11% of Lynnwood residents do not have health care and 28% do not have dental coverage.
Before a break, Councilmember Patrick Decker asked the room to brainstorm ideas of how individuals could voluntarily contribute. Mentorship and faith-led programs were brought to the table as ideas.
It was also noted by Ashley Dawson from Law Enforcement Assisted Diversions (LEAD), that much work requires trained professionals.
"As painful as it is to hear, things are worse than ever before, and these complex issues cannot be solved just by a well-meaning, untrained volunteer," Dawson said. "It's messy and difficult and challenging and it will break the people who try to jump in and save people. To really be trained on how to support people and reach out to the existing agencies and say 'How can I support you in the work you're doing?' because the people on the front lines are struggling too."
In terms of actionable items, Glen Cunningham of Lynnwood Alano Club  spoke about the club's need to find a new meeting place, which the Lynnwood Comprehensive Treatment Center's Nicole Smith-Mathews offered to provide during their off-hours. The room will be used to house about 60 support groups. The treatment center operates Monday-Saturday mornings, offering counseling services and methadone-assisted programs to aid individuals suffering from withdrawal. Mike, an avid hotline volunteer, offered to provide racks filled with brochures about resources and information that could be placed in public spaces. 
Councilmembers thanked attendees for their participation in the round table, which lasted just under three hours.
— By Jasmine Contreras-Lewis