This story was updated to clarify that the funding request to provide mental health services to Lynnwood students was a request from the Human Services Commission, not the Edmonds School District. 
Lynnwood City Councilmember Josh Binda, under a pending settlement, will admit he violated the city's ethics code when he used the city council chambers and his city email to conduct business related to a paid speaking tour.
Binda's settlement, announced during the Lynnwood City Council's May 1 work session — follows a Lynnwood Board of Ethics investigation into his conduct. In January, Councilmember Patrick Decker submitted a complaint to the ethics board on behalf of the council alleging that Binda used city resources for personal gain. 
The complaint stated that Binda used his city email address to conduct business relating to his paid "Love Conquers All" speaking tour, in which he was paid over $14,000 to appear at several Washington schools. He also entered Lynnwood City Hall's council chambers after hours to film a promotional video for the tour. 
After a series of consultations with the ethics board attorney, the board attorney recommended that Binda admit to his violations. Decker and Binda reached a settlement including these five points: 
Binda violated ethics code in his business use of council chambers and city email.

The agreement would provide a "high-level overview" of these violations.

Binda was unaware at the time that his conduct violated ethics code. 

Binda would not use city facilities this way again and would do all he could to avoid ethics violations in the future. 

The ethics board, its attorney, the council and the city would take no further actions against Binda for these complaints.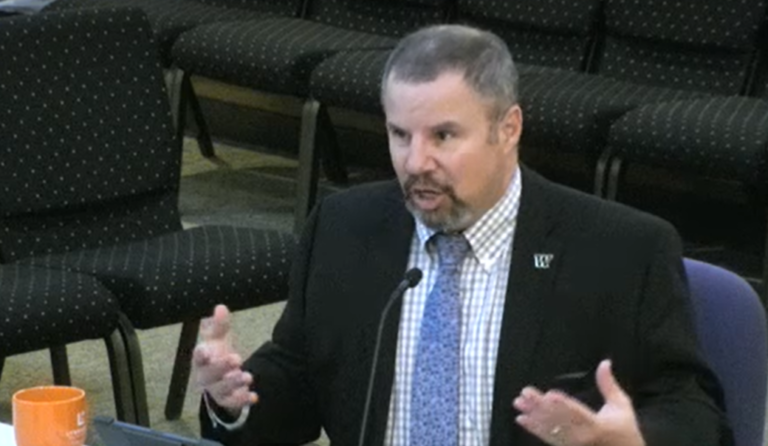 The council is scheduled to vote on the settlement during its May 8 business meeting. If accepted, it would require Binda to publicly admit wrongdoing and prevent Lynnwood from taking further actions related to these specific violations.
In other business, the council also considered possible uses for its remaining American Rescue Plan Act (ARPA) funds, including a request to use a portion of that money on mental health in Lynnwood schools. 
Lynnwood has $825,806.71 of its $10.9 million in ARPA funds remaining. The federal government in 2021 distributed the funds to local governments to ease the economic impact of the COVID-19 pandemic. Since receiving the money, Lynnwood councilmembers have discussed the best ways to use it.
Seeking to fill gaps created by its $15 million budget shortfall for the 2023-24 school year, Lynn Sordel, staff lead for the Lynnwood Human Services Commission met with the council to request $219,623 for mental health staffing in Lynnwood schools. The plan was created by the Center for Human Services (CHS), which will hire and manage the assignments of two master-level clinicians to provide mental health care to students most in need. 
Representatives from the Edmonds School District, including Superintendent Rebecca Miner and School Board Members Carin Chase and Deborah Kilgore, came to support the presentation but the conversation derailed when councilmembers focused on the school district's recent budget decisions. 
Miner and Kilgore detailed the case of a single classroom with schoolchildren at risk of suicide, homelessness and severe anxiety. Chase recalled public testimony during the past two school board meetings regarding budget cuts. She described hearing from hundreds of community members who feared that students, particularly those from disadvantaged backgrounds, were so heavily impacted by COVID that they would face additional challenges in school.
While the district used funding that it received from the state and federal governments to provide additional support over the past few years, that funding has ended, resulting in staff layoffs and the elimination of classes and resources.
Councilmembers Shirley Sutton, George Hurst and Binda openly supported the proposal to provide assistance to students. 
Council President Shannon Sessions asked how master-level clinicians would assist students struggling as a result of homelessness. Kilgore answered that while the services would ease the trauma from these situations, it would also help prevent these students from also becoming homeless when they became adults. 
"I'd think that, because mental health is such a top priority to you, you would not cut music and drama," Sessions replied. "Which is, that's really what everybody was coming at you about was how important music and drama is to their mental health. I mean, that's a real easy way to help students with mental health."
"I can't imagine how much worse it's going to be already for our students that if they also don't have those classes that they actually can relate to others and express themselves that, how bad their mental health is going to go after that," Sessions continued.
Hurst pointed to a shooting at a school elsewhere after it had expressed a need for mental health counselors, and also referenced Sessions' statement that this was the third time the council had received this request from the school board.
"So, it's a dire need, it's a great proposal, it's Lynnwood-centric, it fits with everything we've talked about here," Hurst said. "For me, it was important to bring this forward again because it's a need that's not going away." 
Council Vice President Julieta Altamirano-Crosby chided the district for removing one family engagement officer position and modifying assignments of the rest. She stated that other cultures don't speak about mental health, so having these officers communicate with families about the issue is crucial. She urged the board to reconsider the importance of those positions.
Councilmembers Decker and Jim Smith openly opposed the request.
"The residents of Lynnwood, the communities, Mountlake Terrace, Edmonds are outraged. Edmonds School District is cutting music and art and yet they come here and want to increase staff," Decker said. After reading testimony from protesters contained in a news article, Decker stated that he would not approve using city ARPA funds to hire new people while there were cuts in music and arts programs.
Smith followed suit, claiming that the school district was limiting parental involvement, a point later denied by the school board members. Regarding homelessness, Smith said that one solution to that was a new apartment was being constructed near the old Lynnwood Junior High building.
Hurst and Miner corrected Decker's statement that the school district was asking for staffing since it was the Lynnwood Human Services Commission that would hire and manage the employees, coordinating with the schools to distribute care. The commission last requested funding for this idea in September 2022.
School board representatives offered to arrange a joint meeting with the Lynnwood City Council to provide them with factually accurate information about events in the school district so that they could move forward with the best understanding possible.
Other ideas for ARPA funds were also brought by councilmembers. Smith said that he would like to beautify Lynnwood as current graffiti fixes did not include full restorations. He also said that funding could be used to have people pick up grocery carts. Decker said he would like to create a community garden. Binda brought up a youth crime-prevention program, something that Sessions mentioned earlier as an option. Sessions also suggested supporting Lynnwood-based Homage Senior Services and its healthy living programs. 
Hurst said he received requests from the Edmonds School District Foundation that would implement job-training and hunger prevention programs. He also received an email requesting assistance that would benefit the city's Recreation Benefit Fund. Altamirano-Crosby referenced a publicly accessible mental health program in Bothell managed by CHS that could be beneficial. She also talked about a child care training program in other states that could help Lynnwood parents. Sutton said she would present her ideas for addressing the homelessness issue in the upcoming weeks.
In other business, the council received a comprehensive introduction to Lynnwood's annexation options by Community Planning Manager Karl Almgren. The council has long entertained annexation of nearby areas and Monday's conversation was divided into possible parts of unincorporated Snohomish County that were eligible. Areas under consideration for annexation include Norma Beach, Lake Stickney, Larch Way North and South and North Road. 
Almgren also discussed methods of annexation that could be used to bring the areas into the city's jurisdiction. Councilmembers were encouraged to provide Almgren with a list of questions to be processed into his workload.
Finally, the council discussed attendance limits via Zoom for councilmembers, an item under consideration for months. Sessions directly addressed Binda as the motive for the rule change, citing that he had attended less than half of the council's meetings in person. According to Sessions, Binda has missed four meetings entirely and attended nine over Zoom in 2023. Further, he once refused to turn on his camera during an executive session, an exclusive meeting for councilmembers where they are required to turn in their electronic devices to discuss publicly unavailable information. 
Councilmembers could not implement the rule change during their May 1 work session but discussed terms for its implementation. Those will be vetted by the city attorney before next week's business meeting.
Binda – who was appearing via Zoom — did not speak during the conversation. The other councilmembers agreed to limit Zoom attendances to three per year. In the interest of fairness, they discussed starting with a fresh slate for every councilmember and discussed possible exceptions, such as family or medical emergencies. Existing legislation already states that city councilmembers cannot be absent for more than five meetings. 
Additionally, the council considered requiring cameras to be on during Zoom attendance, not allowing Zoom attendees to participate in executive sessions and requiring Zoom attendees to be in lit rooms. They also discussed options for handling connection issues. They eventually decided that if a member was present for half or more of a meeting, they would be considered in attendance. 
— By Jasmine Contreras-Lewis