Events for Feb 22, 2020
Events Search and Views Navigation
Ongoing
SKAGIT VALLEY ARTISTS FEATURED AT GALLERY NORTH EDMONDS, WA – In the month of February, Gallery North will be showcasing Mount Vernon artists, Melissa Ballanger and Kathy Boussard in a combined show, "A Floral Affair." The exhibit features a wide array of functional and decorative fused-glass art and abstract oil floral paintings in a symbiotic...
Find out more »
7:00 pm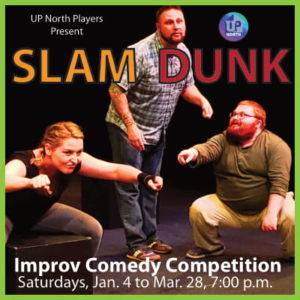 The "Slam Dunk" is a competitive improv competition, where teams try to match each other's best shot, all for audience approval. Attend the Slam Dunk and see the 8:30 show for $5! You can buy ahead of time when you pick up your tickets or exchange your Slam Dunk tickets at the break. Enjoy a...
Find out more »
8:30 pm
Luck determines the story in UP North's unique new Improv show "Roll of the Dice". Players will create captivating stories inspired by dice that have your suggestions written on them. "Roll of the Dice", inspired by Madlibs, is a crazy ride into the unknown full of twists thrown with the almighty D-20 die! See what...
Find out more »
+ Export Events