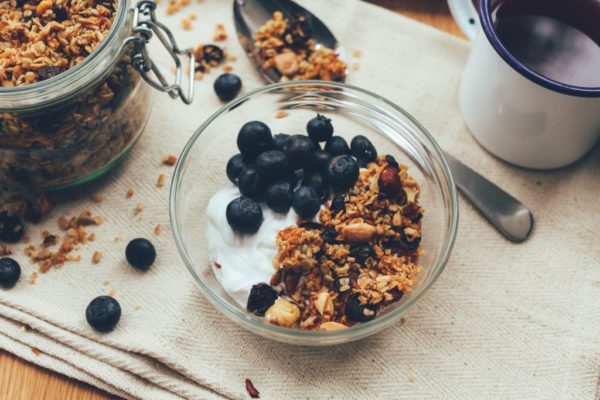 I grew up in St. Louis, Missouri.  Suffice it to say that I still love my hometown (especially for many of its culinary treasures) but I am glad that I call Edmonds home (especially because of the weather and the natural beauty.)  One of my earliest cooking memories is making granola with my mother in the 1970s.  I think she was ahead of her time as we were the only family in the neighborhood who regularly ate homemade granola as part of a "healthyish" breakfast. And no…my mother was not a hippie but she loved to make everything from scratch.  (She did teach me how to tie dye t-shirts though and was quite flummoxed when I came home from sleep-away camp one year with ALL of my clothes and bedsheets tie dyed! True story!) I loved helping my mother stir up a big batch, and I especially loved the smell in the kitchen as it was baking.
I've continued the tradition and I have been making granola for my family for several decades.  We're lucky to live where there are many options to purchase delicious granola, but I have to say that there is nothing more delicious than eating your own granola. You can personalize it and add in whatever you really enjoy (and leave out the rest). For example, I don't like raisins in my granola). If you don't like cinnamon, feel free to leave it out.  Perhaps add in nutmeg or ginger if you prefer a different flavor profile.  I guess what I am trying to say is that making granola is an opportunity to use your creativity because it is very hard to wreck it.  Whatever comes out of the oven will be perfect–just as long as you don't overcook it.    You can easily double or triple the recipe so that you have a quick and healthy breakfast for your family working or studying from home.
I am highlighting this recipe now because we have an abundance of local fruit (thinking blueberries and peaches) right now. Eating a bowl of granola with a fresh, ripe local peach with some version of milk (dairy or non-dairy) is a perfect summer breakfast. Lately this has become my go-to lunch! It makes an absolutely fabulous snack too.
So put on your tie-dye shirt and get baking!
Healthy Granola
This delicious healthy granola recipe is naturally sweetened with maple syrup (or honey). It's made with oats, coconut oil and your favorite nuts and fruit. Make it your own! Recipe yields about 8 cups granola, enough for about 16 half-cup servings.
Ingredients
4 cups old-fashioned rolled oats (use certified gluten-free oats for gluten-free granola)

1 1/2 cup raw nuts and/or seeds (I used 1 cup pecans and 1/2 cup pepitas)

1 teaspoon fine-grain sea salt (if you're using standard table salt, scale back to 3/4 teaspoon)

1/2 teaspoon ground cinnamon

1/2 cup melted coconut oil or olive oil (or combination of the two)

1/2 cup maple syrup or honey

2 teaspoons vanilla extract

2/3 cup dried fruit, chopped if large (I used dried cherries)

Optional but delicious mix-in:  unsweetened coconut flakes (I use Bob's Red Mill) 
Instructions
Preheat oven to 325 degrees Fahrenheit and line a large, rimmed baking sheet with parchment paper.

In a large mixing bowl, combine the oats, nuts and/or seeds, salt and cinnamon. Stir to blend.

Pour in the oil, maple syrup and/or honey and vanilla. Mix well, until every oat and nut is lightly coated. Pour the granola onto your prepared pan and use a large spoon to spread it in an even layer.

Bake until lightly golden, about 25-30 minutes, stirring halfway (for extra-clumpy granola, press the stirred granola down with your spatula to create a more even layer). The granola will further crisp up as it cools.

Let the granola cool completely, undisturbed (at least 45 minutes). Top with the dried fruit (and optional coconut flakes, if using). Break the granola into pieces with your hands if you want to retain big chunks, or stir it around with a spoon if you don't want extra-clumpy granola.

Store the granola in an airtight container at room temperature for 1 to 2 weeks, or in a sealed freezer bag in the freezer for up to 3 months. The dried fruit can freeze solid, so let it warm to room temperature for 5 to 10 minutes before serving.
Notes
Make it gluten free: Be sure to use certified gluten-free oats.
Make it nut free: Use seeds, like pepitas or sunflower seeds, instead of nuts.
If you want toasted coconut in your granola: Stir unsweetened coconut flakes into the granola halfway through baking. They'll get nice and toasty that way
—  By Deborah Binder
Deborah Binder lives in Edmonds with her family. She is "dancing with N.E.D." (no evidence of disease) after being diagnosed with ovarian cancer in 2009. She is a foodie who loves to cook from scratch and share her experiments with her family and friends. She attended culinary school on the East Coast and freelances around town for local chefs. Her current interest in food is learning to eat for health and wellness, while at the same time enjoying the pleasures of the table. As Julia Child once said, "Everything in moderation including butter." Deborah can be contacted at jaideborah@yahoo.com.