Firefighters from Edmonds Fire Station 17 and nearby fire stations in South Snohomish County –along with some Edmonds police officers, city councilmembers, first responders and local residents –gathered Monday for the traditional 9/11 memorial at Edmonds' Fallen Firefighter Memorial Park.
Starting at exactly 9:11 a.m., firefighter Dave "Bronco" Erickson started the ceremony with the color guards raising the U.S. flag while bugler and retired Edmonds animal control officer Debbie Dawson played the taps.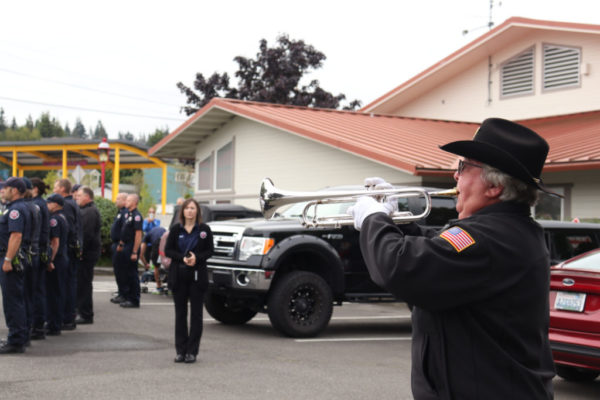 Erickson described the four hijacked commercial planes that crashed into the World Trade Center, the Pentagon, and the field in Shanksville, Pennsylvania. The tragedy killed nearly 3,000 people, including 343 New York firefighters, 23 New York police officers, 37 Port Authority officers and 11 paramedics (three were off-duty).
Erickson said that 9/11 was "an awe-inspiring event that brought humanity together."
"There were no red states, there were no blue states. There were only united states," he said. "And we as a nation, we are united. We as a planet were united. Terrorism was condemned around the world after that atrocious attack. We need to remember that we are the United States and that we are brothers and sisters and treat each other accordingly."
As he did during last year's memorial, Andy Speier — a former New York City and Edmonds firefighter — recalled what he was doing 22 years ago. He was driving from Edmonds to Machias near Lake Stevens around 5:30 a.m. to teach a building-collapse class when he heard on the radio about the first plane crash into the World Trade Center.
He called his old firehouse in New York City and found out everybody from his former battalion—including the fire chief— "was gone."
All 15 firefighters from his former station — Engine 54, Ladder 4, of the 9th Battalion in midtown Manhattan — died that day, including additional off-duty firefighters.
"We canceled the class that day and went back to work, and we went to a couple of house fires," Speier said. "And everybody that I saw was incredibly supportive, knowing that I used to work back there."
Three days later, after the Federal Aviation Administration flight ban ended, Speier took the first plane out of Seattle to look for survivors and remains at Ground Zero. He spent a week digging at night with other firefighters and other emergency crew, wearing his old New York City firefighter uniform. City workers had constructed a huge lighting set up around Ground Zero that made the digging site look as bright as day.
"I wasn't used to seeing tanks on Canal Street and armed soldiers standing guard as we were working," Speier said.
During his remarks, Edmonds Mayor Mike Nelson mentioned that two more 9/11 victims —a woman and a man—were identified a few days ago. Those remains would have been unidentifiable 20 years ago, but occurred thanks to advancements in genetic sequencing technology and understanding. The two were the first identified victims since 2021, and there are still more than 1,000 victims waiting to be identified.
"When I try to think how we can remember those who we lost and what good can come out of that, I look to our police officers and firefighters," Nelson said. "Because every day, they go out there, they don't know what they're going to see or expect. When you see a firefighter, a first responder, or police officer, understand that they're willing to make those kinds of sacrifices to people they do not know, people just like you and I, to make our neighborhoods a safer place."
Seattle artist and Vietnam War veteran Michael G. Reagan recalled a private meeting he and a fellow Marine had with President George W. Bush and First Lady Laura Bush in February 2002 to present portraits Reagan had drawn of the two.
"The President of the United States walked up to me…looks at me in the face and he says, 'They just killed 3,000 of our people and I am very angry.' He was crying…the president of the United States. All I could think in the back of my head was, 'Something's gonna change,' and it has."
A year later, Reagan started the Fallen Heroes Project, a nonprofit that commemorates people who died during 9/11 and the War on Terror, including information on their military service (if applicable) and their personal lives. Since then, he has drawn more than 9,000 portraits, mostly of soldiers, police officers and firefighters who had died after 9/11.
"9/11 means a lot to me," Reagan said. "I walk by here every day, doesn't matter what time of the day, and I stand here and think about all the people I've worked with. I love the firemen. I love the policemen. Everybody in Edmonds knows that. Because 9/11 changed this place. We're here to honor you and the memory of a lot of firefighters who are no longer with us. I'm here to just do this project. Nothing else should matter on 9/11 other than 9/11."
Edmonds' Fallen Firefighters Memorial Park includes a rusty, one-ton steel beam from the World Trade Center that stands about 11 feet tall. No one knows which tower it came from. Facing Station 17 are two sheets of stainless steel that represent the two towers. There is a pentagon that represents The Pentagon and the small patch of grass by the flagpole represents the field where United Airline Flight 93 crashed in Pennsylvania.
Two walls that face the fire station are composed of 3,000 panes that commemorate each person killed on 9/11; the ones in red and blue represent firefighters and police officers who died that day. The colors were arranged in a way that resembles a waving American flag.
"Never forget the events that happened on that day," Erickson said. "Standing before you is a monument that your local firefighters built. We want to remember those who we lost. There's a lot of symbolism in this structure. The longer you sit and watch, the more things that you will see."
The steel beam was brought to Edmonds in December 2011 under the guidance of Erickson, who initiated the project, after he and his family visited the 9/11 Memorial at Ground Zero.
"The feat of delivering that piece of steel from where it was living to the airport and eventually get back here [in Edmonds]," Speier said. "Only our Bronco could pull that off."
Erickson described how the monument "changes with the weather," whether it is sunny, foggy or rainy. The base of the pedestal has the names of every first responder who was killed in the attack.
"It's a constant, dynamic reminder of those who were lost," he said. "If you can't make it to New York, you can come here and have a piece of New York brought to your neighborhood where you can spend some quality time in solace, in remembrance."
— Story and photos by Nick Ng