At its June 5 work session, the Lynnwood City Council heard a request from the Lynnwood Police Department to fund a gun buyback program and an update from South County Fire on its operations. It also received a briefing about the June 12 public hearing regarding the council's decision to place a moratorium on accepting applications for outpatient substance abuse facilities.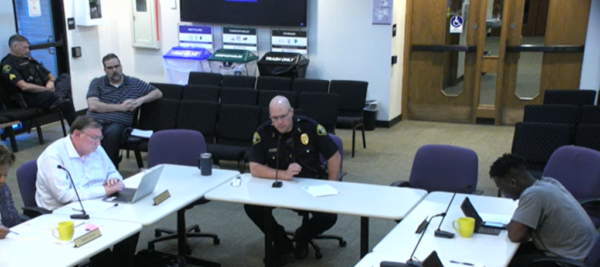 On behalf of the Lynnwood Police Department, Deputy Chief Cole Langdon requested $15,000 in ARPA (American Rescue Plan Act) funds to facilitate a gun buyback program for Lynnwood residents. The one-time event would give owners of unused firearms an opportunity to exchange them for gift cards worth $25 to $250. Additionally, the department received gun locks from Project ChildSafe, which it would  distribute free at the event, along with educational gun safety brochures. 
The purpose of the one-time program is to promote gun safety and incentivize the responsible surrender of unused firearms. According to estimates by the city's finance department, the program would secure about 100 guns.
Langdon said that the cities of Everett, Mukilteo and Kirkland have already run successful gun buyback programs using ARPA funding, and have provided valuable information to those building the framework for the Lynnwood event. Many participants in the other cities' programs were still interested in surrendering their guns after gift cards ran out, Langdon said.
Councilmember Hurst asked if a different funding source could be used so that the success of the event would not be limited by its budget. Langdon said he would look into it. 
Council Vice President Julieta Altamirano-Crosby asked why gift cards were necessary for the event, if the purpose was to take unused guns. "If this is to build conscience in the community and they surrender [their gun]… why do you think it's necessary to give gift cards?" she asked. Langdon said that giving gift cards might spur people into taking action and trading in an unused firearm.
Councilmember Patrick Decker noted that the gun locks would not work on revolvers and shotguns.
South County Fire Chief Thad Hovis was invited to speak to the council about the organization's work and growth as a regional fire authority. In addition to fighting fires, the organization responds to medical emergencies, vehicle collisions, rescues and other emergency situations. Hovis reported that 83% of requests for assistance were emergency medical services. He was also proud to report that South County Fire has an extremely high cardiac save rate of 61.5%, higher than the state's rate of 38.5% and the national rate of 34.3%.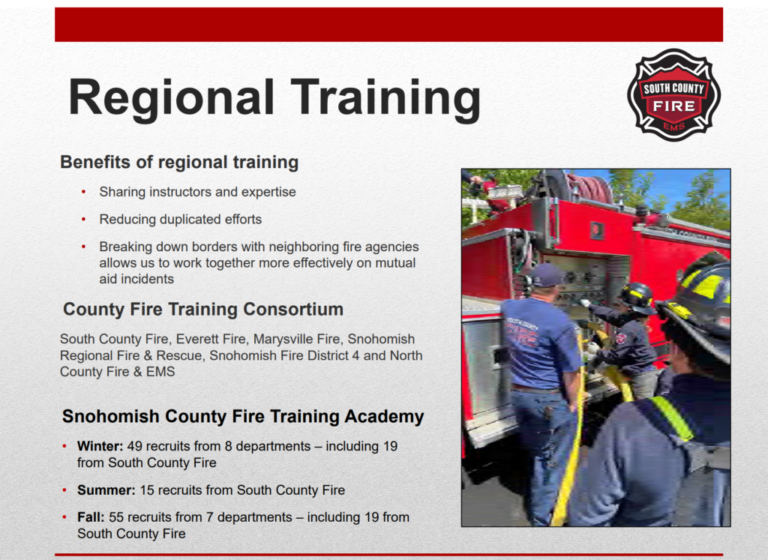 Hovis also discussed South County Fire's growing presence in nearby cities, the benefits of its collaborative regional training programs and its roster of recruits. Finally, he described the organization's community outreach efforts, which include providing online classes, distributing safety equipment and hosting events. These activities have reached over 11,000 Lynnwood community members, he said. 
In other business, staff briefed the council ahead of the June 12 public hearing regarding an emergency moratorium on accepting applications for substance abuse clinics in Lynnwood. 
Councilmembers brought forth the moratorium in April 2023 using an emergency ordinance, which, per Lynnwood regulations, requires a public hearing within 60 days. According to officials, the six-month moratorium on accepting applications was a temporary measure to give the city time to develop new laws to manage substance abuse facilities in Lynnwood. The council action came after the department received an application for a new clinic following vocal opposition to an opioid treatment facility that opened in January.
While Community Planning Manager Karl Almgren spoke on new state legislation that may affect the moratorium, he reiterated that his briefing and the public hearing itself were not about the new laws. However, councilmembers expressed concerns over the impact new legislation would have on the moratorium as it would classify substance abuse treatment facilities as essential public facilities, which limits what actions the council could take. 
As for the existing Acadia outpatient treatment facility that was the source of public concerns earlier this year, Councilmember Josh Binda said he visited the clinic recently and found the area to be clean and safe. He then asked members of law enforcement present at the meeting if there had been any uptick in crime near the facility. Police representatives said they were not equipped to answer that question but promised to look into it. 
The public hearing is scheduled for June 12 at 6:30 p.m.
Later in the meeting, Council President Shannon Sessions asked Binda about an event he plans to host in the council chambers June 8. The workshop, called "Keeping It Real," will include Lynnwood Councilmembers Binda, Sutton and Hurst as well as a councilmember from Tukwila, Mohamed Abdi. The four will speak to high schoolers and young adults about civic engagement, starting a business and how to be authentic at work. 
Other members of the council said they weren't aware of the workshop specifics and asked Binda to communicate more with them so they could assist with future events.
Finally, Public Works Director Bill Franz asked that the council rename a small frontage road off 196th Street Southwest as "196th Place Southwest." Three local businesses near the old 196th Bridge at Wilcox Park have reported that the name causes confusion. There were no questions, and the item will be brought to a vote at the next week's business meeting. 
At the end of the meeting, the council met in executive session – closed to the public – to discuss personnel items.
–By Jasmine Contreras-Lewis