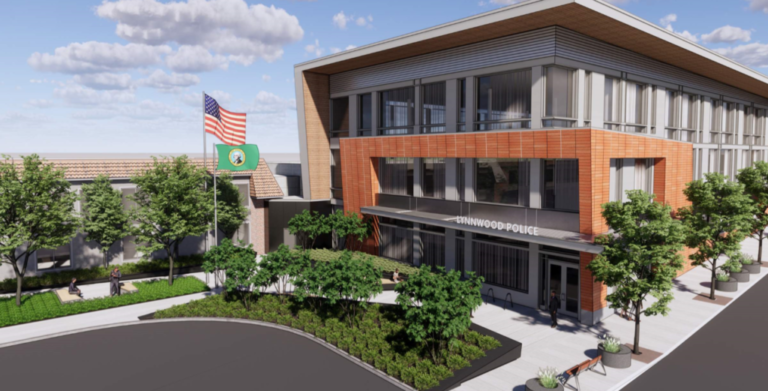 At its March 13 business meeting, the Lynnwood City Council approved a change order request in the amount of $677,453 to continue construction on the city's Community Justice Center. The change order asks for funding to address oversights in planning and design, such as additional cost to demolish old asphalt and waterproofing the stormwater control vault. The proposal was approved by all councilmembers except Josh Binda, who abstained. 
Council President Shannon Sessions, one of the more vocal supporters of the center, spoke briefly about the need to build a new police station, as the current station is "unsatisfactory for the 20 years we've had it."
"No one likes increases but unfortunately this is the way it is for small and large projects all over, in the city, regionally, statewide and over the country because of the different supply issues and things," Sessions continued. "So unfortunately, this is something we are having to deal with, but we do need to get this finished." 
She reminded meeting attendees that the project also included a court and a jail, each with heightened security. Councilmember George Hurst added to her statement by addressing concerns about transparency, saying that all the change orders were public information with clearly defined purposes. 
With the approval of the change order, the running total for center construction is $61,564,684.24, which is $5,183,979.72 over the initial contract amount of $56,380,704.52, or about 9.19%. 
You can learn more about Community Justice Center construction here.
During public comment, Derek Hanusch asked the council to consider how the city will welcome the influx of people who will arrive when the Lynnwood Link light rail station opens. Hanusch said that the council should address situations that may occur in advance such as planning the location of a homeless shelter or tiny house community.
In other business, Sessions read a proclamation about Women's History Month that acknowledged the important contributions that women have made to society. Vice President Altamirano-Crosby read the proclamation in Spanish over Zoom.
Councilmembers unanimously approved the appointment of Katie Zeitler for a position on the Lynnwood Arts Commission, to expire at the end of 2025. During her interview at the previous work session, multiple councilmembers praised Zeitler for her experience with the fine arts. 
— By Jasmine Contreras-Lewis