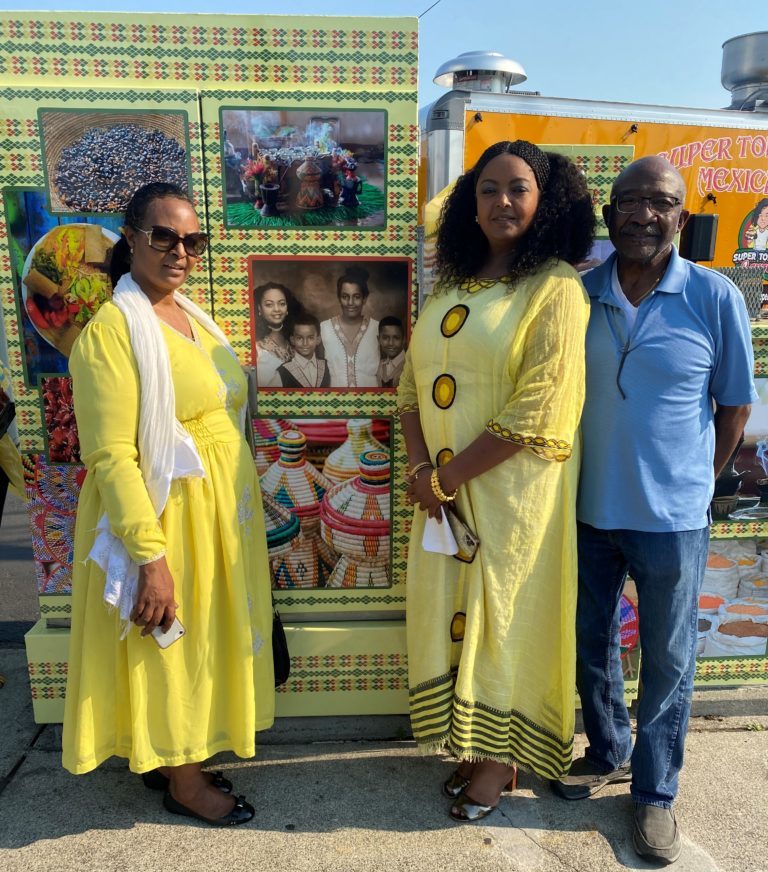 The City of Lynnwood on Saturday unveiled its latest art-wrapped city signal box — this one honoring Lynnwood's friendship city relationship with Bole Kefle Ketema Wereda 10, which is a borough or sub-city of Addis Ababa, Ethiopia.
The signal box art wrap is located at the corner of Highway 99 and 200th Street Southwest.
"The art wraps across the city add art, fun and color to the landscape," Lynnwood's Arts, Culture & Heritage Coordinator Fred Wong said. "They tell unique stories and a collective story about Lynnwood, through art and history."
This art wrap box is the 11th in the City of Lynnwood.
According to Wally Webster, board member of the Lynnwood Sister City Association, Lynnwood has one sister city — in South Korea — and two friendship cities: one in Mexico and one in Ethiopia. "We recognized the value of various ethnic groups being able to educate and share their culture, art and customs with other residents of Lynwood and the surrounding communities," Webster said.
Wong shared some facts about the photos on the art wrap. The food shown is Injera and wot, traditional foods as well as main dishes in Ethiopia. It is characterized both by its unique flavors and its communal presentation, a family-style approach with multiple items arriving on a large platter.
Ethiopia is the birthplace of coffee. The Ethiopian coffee ceremony is an important part of Ethiopian culture. The ceremony is the most important social occasion in many parts of Ethiopia including in the Bole region.
The farmers' market is where the locals shop for fruits, vegetables and grains. Market day is everyday in Ethiopia.
Ethiopian traditional clothing is made of woven cotton.
The coils of traditional Ethiopian baskets are woven over with a type of dried grass stems, which are often dyed, are
used as a kind of thread both to decorate the finished basket and to hold its structure together.
Lalibela is one of Ethiopia's holiest places. It is built from one single block of solid rock dated back to the 12th century.