The value of those wiggly teeth is on the rise in 2023. In celebration of National Tooth Fairy Day Feb. 28, the Tooth Fairy released the findings of the annual Original Tooth Fairy Poll, sponsored by Delta Dental. It shows a whopping 53% increase for kids in Washington state and the western U.S. – equating to $6.25 per tooth on average.
The new value of a single lost tooth in Washington state and the western U.S. is now two cents higher than the national average of $6.23, which reflects a 16% increase nationally. The new value represents a record high in the 25-year history of the poll, Delta Dental said.
According to a Delta Dental news release, the Original Tooth Fairy Poll has typically mirrored the economy's overall direction, tracking with the trends of Standard & Poor's 500 Index (S&P 500) for 16 of the past 19 years. Last year, a single lost tooth in the western U.S. was valued at $3.66, and this year's survey shows upward growth to $6.25, an increase of nearly 53%. However, over the same time-period, the S&P 500 has experienced an 11% decline.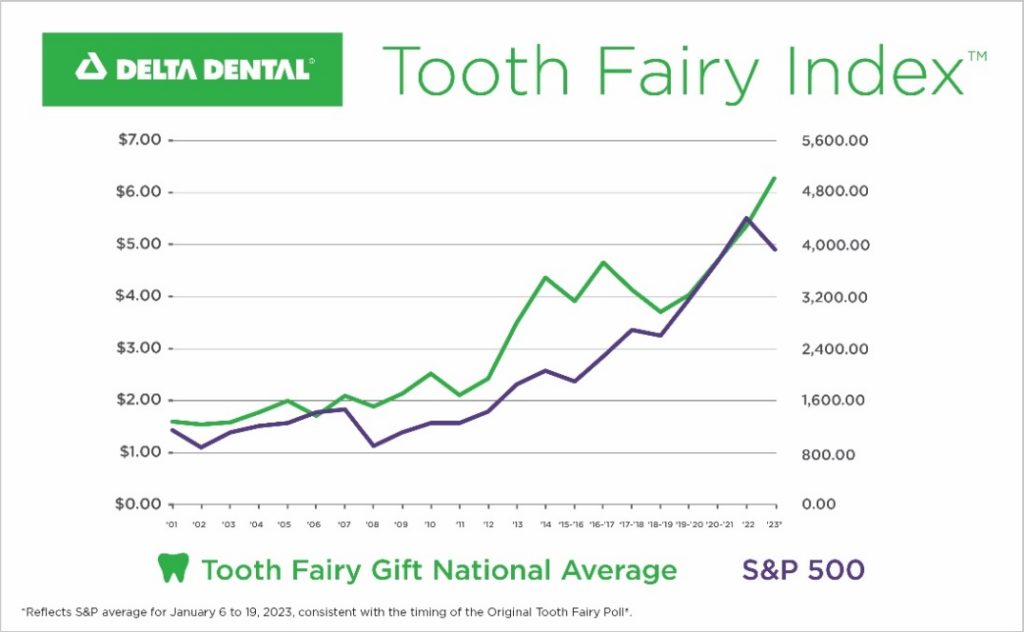 Delta Dental has been analyzing the Tooth Fairy's U.S. annual giving trends since 1998. The newly announced value of a lost tooth has more than quadrupled since its inception, when the value of a lost tooth was $1.30 as it reaches its highest payout in the history of the survey.
Delta Dental's Tooth Fairy offered this observation on payout amounts: "We need to make sure that kids are taking good care of their teeth by brushing for two minutes twice a day, and flossing once, along with regular visits to their dentist. I love clean, healthy teeth and when I see them resting under your pillow, I can see all that hard work is paying off."
For parents with children who have recently lost a tooth – or visited their dentist – Delta Dental of Washington offers free letters from the Tooth Fairy mailed directly to your child. Versions of the letter are offered for a first lost tooth, a lost tooth, a good dental checkup, and a version with words of encouragement for a less than positive dental exam. The Tooth Fairy also hosts a free Tooth Fairy Hotline, with pre-recorded messages with the same themes as the letters.