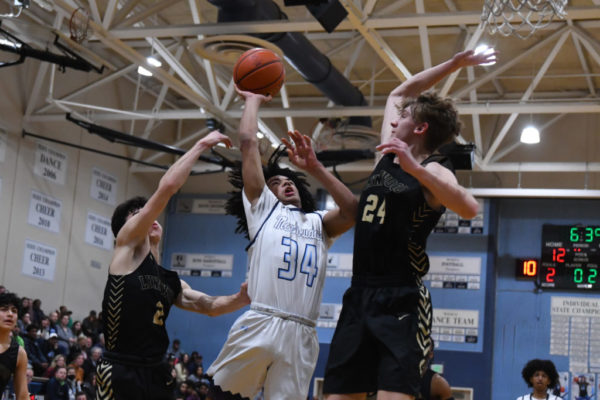 It was a tale of two halves for the Lynnwood Royals boys basketball team Tuesday night at Meadowdale High School. The Royals struggled to score in the first half, trailing the home Mavericks 12-2 after one quarter and 18-6 late into the half. Only two 3-pointers by guard Cimaryus Sterling in the final minute of play brought the Royals' total to 12 for the half.
Lynnwood woke up in the second half, outscoring Meadowdale 14-12 in the third to cut the Mavs' lead to just four entering the fourth quarter.
With 7:31 remaining, Lynnwood's Keegan Williams powered in a shot on the block for two points and was fouled. He made the free throw to cut the lead to just one, 30-29.
A minute later, Navtej Kaile drained a 3-pointer to give the Royals the lead, 32-30.
Meadowdale tied it up on the next possession when Devon Waldrop-Leathers scored on a nice baseline up-and-under drive.
Lynnwood regained the lead and didn't look back, thanks in large part to 3-pointers from Jace Hampson and Sterling, whose 3 extended the lead to 10. The Royals hung on for a 51-44 win over their cross-town counterparts.
Sterling led Lynnwood with 16, and Jordan Whittle pitched in a strong 12 points and eight rebounds.
Malik Robinson paced the Mavs with 12.
Lynnwood improves to 3-9 in league play, 6-11 overall. The Royals' next game will be Friday night when they host the Hawks from Mountlake Terrace at Lynnwood High School. The game tips off at 7:15 p.m.
Meadowdale falls to 2-10 in 3A Wesco play, and 6-11 overall. The Mavs' next contest will be Friday night's annual "Rubber Chicken" game against Edmonds-Woodway. The game will be at Meadowdale High School with an 8 p.m. start.
— Story and photos by Scott Williams