The Lynnwood Royals saved their best for last on Thursday and as a result have extended their 2022-2023 postseason for at least another week.
In a game that featured two overtime periods, the Royals outlasted the Everett Seagulls 70-60 in a District 1 3A girls basketball tournament winner-to-state game played at Everett Community College on Thursday.
After the Royals and Seagulls were knotted 46-46 at the end of regulation time, Lynnwood rolled up 24 points in the extra eight minutes of game time to down the Seagulls. The late-game charge was led by Aniya Hooker, who scored 11 of her 18 points during the two overtime periods.
Lynnwood, the no.4 seed in the District tourney, was led in scoring by Kayla Lorenz with 28 points — the junior averaged 22.7 points per game for the Royals during this year's District 1 tourney.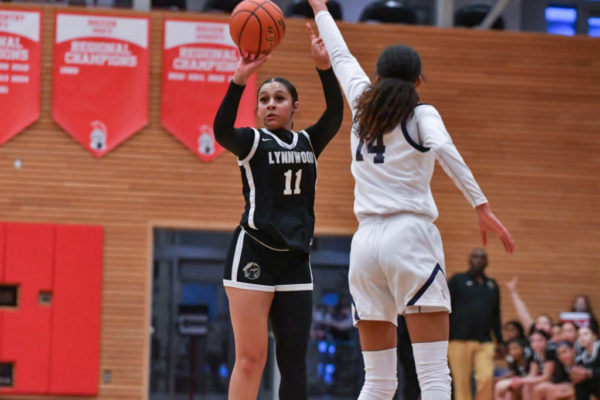 Teyah Clark added 13 points in the Lynnwood victory over no.3-seeded Everett.
With the win, the Royals have earned a trip to the regional rounds of the WIAA 3A state girls basketball tournament to be played Feb. 21, 24 and 25 at sites statewide. Regional round matchups, game sites, dates and times are expected to be announced by the WIAA on Sunday, Feb. 19.
To view the entire District 1 3A Girls Basketball Tournament bracket, click www.wescoathletics.com/m2/tourn.php?act=vt&tid=3866. 
Prep Girls Basketball: Lynnwood vs. Everett, Feb. 16 (District 1 3A girls basketball tournament winner-to-state game)
Lynnwood 10 12 15   7 24 – 70
Everett   8 15 17   6 14 – 60
Lynnwood individual scoring: Kayla Lorenz 28, Aniya Hooker 18, Teyah Clark 13, Nyree Johnson 5, Dina Yonas 3, Mataya Canda 2, Jocelyn Tamayo 1, Eve Pereira
Everett individual scoring: Mylie Wugumgeg 29,, Alana Washington 12, Junior Parrish 10, Lanie Thompson 5, Mae Washington 4, Annabelle Lawless, Shayne Hoekendorf
Records: Lynnwood 16-6 overall, 2-1 in District 1 3A tournament; Everett 15-8 overall, 1-2 in District 1 3A tournament
Lynnwood next game: versus opponent to be determined; time, place and date to be announced (WIAA 3A state girls basketball tournament regional round)
— By Doug Petrowski