Coming off a big round-of-12 victory the day before, the Meadowdale Mavericks appeared anxious to get back to state tourney game play in the Tacoma Dome on Thursday. The team arrived courtside for their quarterfinal matchup against Wesco League rival and 3A state tournament No.2 seed Arlington Eagles dressed and ready to play a full 30 minutes prior to the scheduled 2 p.m. tipoff.
Unfortunately for the Mavericks, that early arrival did not lead to success on the court.
Once the game started, Meadowdale couldn't withstand an early onslaught by the Eagles, falling behind early and eventually succumbing 61-43 in a WIAA 3A Girls State Basketball Tournament round-of-eight contest at the Dome.
The Mavs led just once in the game, 3-2, on a Gia Powell 3-pointer near the midpoint of the first quarter. But a 10-0 run by Arlington made that quick advantage seem like ancient history.
The Eagles pushed their first-quarter lead to 19-8 before the No. 8-seeded Mavericks clawed their way back to within six points by the end of the quarter. But that was as close as the Mavs would get through the rest of the matchup as the Eagles ran away with the 18-point victory.
Meadowdale senior Jordan Leith believed she and her teammates may have got tripped up by the pressure of playing in a state quarterfinal game, the first for a Lady Mavericks' squad since 2009.
"I kind of just felt like maybe we were a little timid, a little scared going into it," Leith said. "I don't know, I feel like we just weren't really in the right headspace. We were kind of not just at the same energy level that we wanted to be at."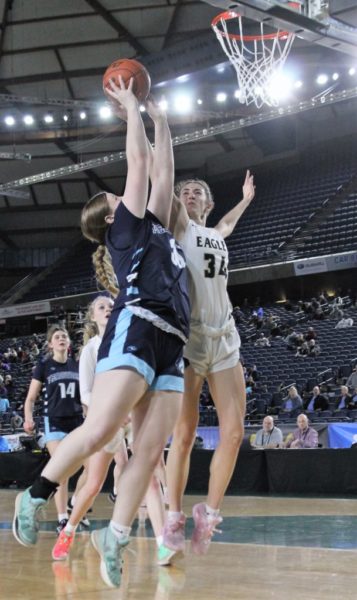 Leith recognized that a very good Arlington Eagles team —  led by the Wesco League 3A Girls Player of the Year Jenna Villa — had a lot to do with it.
"Obviously they've got Jenna, who's just a force and they've got Samara (Morrow) who's also so good with the ball," Leith noted. "They're all just so aggressive." 
Against a relentless Eagles' defensive effort, the Mavs committed 16 turnovers compared to just eight the day before in their victory over Bonney Lake. 
Morrow led all scorers with 28 points; the Eagles' junior point guard sank eight of 11 shots from the field — including four of five from beyond the 3-point arc – and converted eight of nine free-throw attempts in the game.
Villa contributed 20 points to the Arlington victory.
Arlington also enjoyed an advantage in the paint, outrebounding the Mavericks 35-29 and scoring 14 second-chance points compared to Meadowdale's 11 points coming after offensive rebounds.
"Something we really wanted to focus on was getting rebounds and boxing out and just staying strong, but we just didn't get it," Leith said.
Ava Powell led Meadowdale in scoring with 14 points; her sister Gia, who recorded 29 points the day before, was held to just nine points against the Eagles.
While disappointed with Thursday's outcome, the Mavericks still have plenty to play for this week. Meadowdale will next face No. 5 seed Lincoln of Tacoma on Friday, March 3, in a loser-out game tipping off at 10:30 a.m. The winner of the Mavericks-Abes matchup will play Saturday morning for the fourth-place trophy at this year's state championships.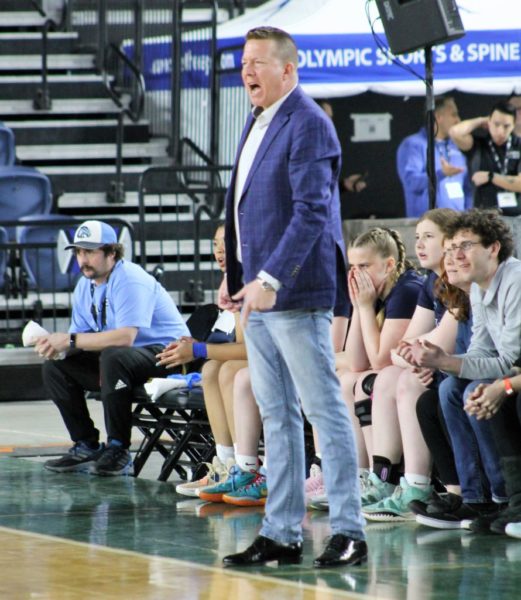 "We're going to try to make it to Saturday," Leith said.
To view the entire WIAA 3A Girls State Basketball Tournament bracket, click www.wpanetwork.com/m2/tourn.php?act=vt&tid=3796. 
Prep Girls Basketball: Meadowdale vs. Arlington, March 2 (WIAA 3A Girls State Basketball Tournament quarterfinal game)
Meadowdale 13   7 11 12 – 43
Arlington 19 13 13 16 – 61
Meadowdale individual scoring: Ava Powell 14, Gia Powell 9, Jordan Leith 6, Natalie Durbin 5, Kaiya Dotter 4, Audrey Lucas 4, Payton Fleishman 1, Samantha Medina, Mia Brockmeyer, Mackenzie Tindall
Arlington individual scoring: Samara Morrow 28, Jenna Villa 20, Kierra Reese 11, Maddy Fischer 2, Katie Snow, Rachel Snow, Jersey Walker, Kalli Rumsay, Khari Deberry, Addison Green, Olivia Sizer, Taelor Kron
Records: Meadowdale 19-8 overall; Arlington 22-2 overall
Meadowdale next game: versus Lincoln (Tacoma); Friday, March 3; 10:30 a.m. at the Tacoma Dome (WIAA 3A Girls State Basketball Tournament loser-out game)
— Story and photos by Doug Petrowski