The Lynnwood Royals have proven their dominance on the volleyball court this season, defeating all comers and finishing first in the highly competitive 3A Wesco League. So what new heights can this team rise to?
How about capturing an elusive District 1 title.
The top-seeded Royals showed their muscle and rolled past no.2-seed Shorewood Stormrays 3-0 (25-20, 25-20, 25-17) in the District 1 3A Volleyball Tournament championship match played Saturday at Marysville-Pilchuck High School.
After a slow start — the Stormrays led 7-2 and 11-6 early in the first set — Lynnwood (20-0 overall) mustered a little storm of their own, coming from behind to grab the lead at 12-11, and never relinquished that lead the rest of the afternoon on their way to the straight-set title victory.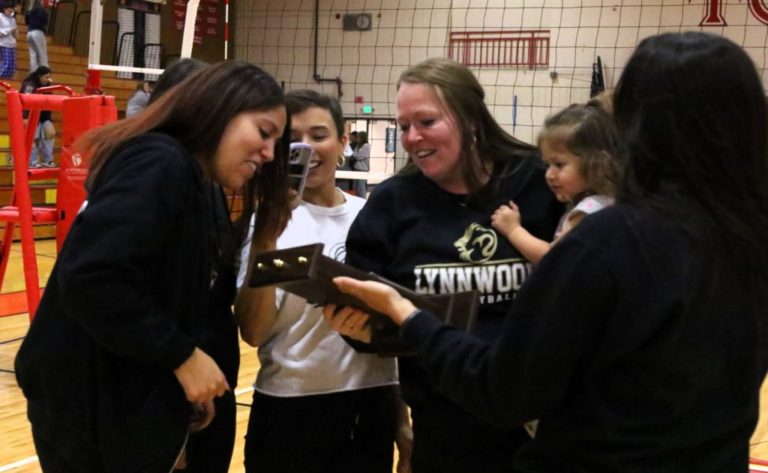 Following the triumph, the Royals' squad led cheers in front of their fans and parents then accepted the District 1 championship plaque. Royals' senior Charlie Thomas said she knows exactly where that trophy is going at Lynnwood High School. "There is a trophy case. There will be a spot for it; we'll make room," she said.
Winning a championship trophy has not only been a goal of this season's Royals squad; it's been a dream of many on the team for years since they began playing together in seventh grade at Alderwood Middle School.
"We've kind of been talking about (championships) since middle school," Thomas said. "The idea of it, joking around like 'what if.' And we did it. It's not a 'what if' anymore."
Saturday's convincing victory over Shorewood (18-3 overall) came as starting middle blocker Hannah Johnson sat out the match in order to rest her back for the upcoming 3A state volleyball tournament later this month. While not having Johnson in the lineup disrupted the usual flow of substitutions during a match, it didn't affect the overall play of the team, Thomas said.
"We adjusted. Everyone had to take a step up," Thomas continued. "We've had a couple of injuries (this season); we've had a couple people have to move around. But overall everyone's kept in their role great. The reason we're here is because everyone does what they do. We're team strong; we're all together."
While having already earned a berth at the state tournament in Yakima prior to the district tournament championship match, Lynnwood likely secured a top-two seeding for their return to the state tourney with Saturday's win.
Junior Ady Morgan was a part of last year's Royals' squad that qualified for state but won just one of three tournament matches played at the Yakima Dome. "Last year it was a little more emotional and this year it just feels so good to come back even stronger," Morgan said. "So it's a really big deal for us."
Morgan credits not only a year of experience playing together for the team's rise to district champion and state contender, but time bonding with each other for their overall success. "I think we've just over the past year gotten closer, so it's been easier to play with each other," she said.
Thomas added to Morgan's assessment of how this season's team has excelled.
"We just play as we have been," Thomas said. "That's the reason we're here. We got here because we play like this; we play together."
To view the entire District 1 3A Volleyball Tournament bracket, click www.wpanetwork.com/wiaa/brackets/tournament.php?act=view&tournament_id=4099. 
Prep Volleyball: Shorewood vs. Lynnwood, Nov. 11 (District 1 3A Volleyball Tournament championship match)
Lynnwood 3 – Shorewood 0 (25-20, 25-20, 25-17)
Records: Lynnwood 20-0 overall; Shorewood 18-3 overall
Lynnwood next match: at WIAA 3A State Volleyball Tournament; time and opponent to be determined; Friday, Nov. 17; at the Yakima Dome
— Story and photos by Doug Petrowski