Death Rings A Bell, by Linda Hope Lee
Nina Foster is delighted at the invitation to be a presenter at the prestigious Pacific University's Literary Festival. She is happy to juggle her librarian duties with a return to her alma mater for this event, and the excitement of a reunion with her English professor and mentor. When Death Rings A Bell in the campus tower, Nina is faced with a challenging mystery. She doesn't believe it was suicide, as the police concluded. She's determined to find out who killed her mentor, and why. Newspaper reporter Stephen Kraslow does all he can to help his dear girlfriend in finding clues. Nina greatly appreciates the help, although at times she surprisingly wonders if mysteries are actually easier to solve than relationships.
Nina begins her search for clues by talking with the only witness of Gwyneth Miller's plummet to death from the top of the tower. It was the sound of the bell that grabbed Cara's attention as the professor's life ended in a tragic plunge. Nina does not rely only on the account from this shocked student of what she saw. It doesn't take long before Nina and Stephen have gathered information indicating motives, means, and opportunity for a list of suspects, including university staff, students and even noted authors on site as headline speakers for the Literary Festival. Clues accumulate from conversations overheard, suspicious behavior, physical finds, and more unexpected sources. What could an exploration inside the tower itself reveal? Nina hopes to get the key, get that door open, and check it out from the ground level and all the way up to the top, where Gwyneth spent her last moments. Danger threatens as the suspect list narrows.
There's no rest for the amateur sleuth when she take breaks from her analysis either. She's needed at her library, she has an important presentation to get ready for the Literary Festival that will begin on schedule, and Stephen has an important question about their future, hovering over them. Is Nina ready for the next big step in their relationship?
Edmonds resident Linda Hope Lee has authored a fun puzzler that's a continuation of the engaging Nina Foster Mystery Series. The recurring characters are a delight to meet again, and the new cast will tickle your curiosity. The plot is intriguing, the killer is cunning and and the novel is entertaining. Whether you read to try your hand at solving the mystery, or purely for the story, you'll enjoy this cozy book.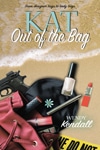 — By Wendy Kendall
Wendy Kendall is an author with The Wild Rose Press. Her mysteries include Kat Out of the Bag and the prequel Purse-Stachio Makes A Splash. Her newest ebook is Snow Kiss Cookies To Die For.