On Wednesday, Feb. 8, Top Pot Doughnuts will be celebrating its "official" anniversary by offering 21-cent Old Fashioned doughnuts in all of its cafes — including the one at Edmonds' Salish Crossing. They plan to be stocked up, but if you want to pick up a large amount they have requested that you call to pre-order so they have enough for everyone. Only 21 cents for one of their tasty donuts. Top Pot is located at 150 Sunset Ave. S. and the number to call is 425-582-2579. They are open from 6 a.m. to 6 p.m. on Wednesday.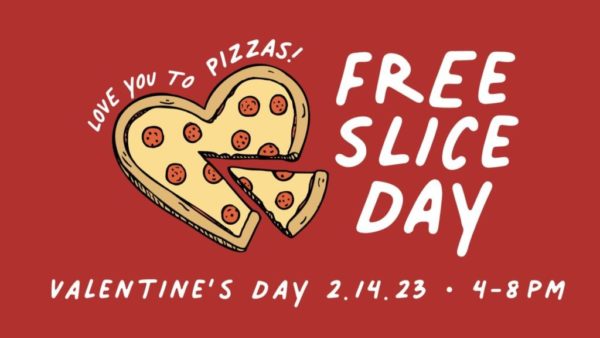 On Tuesday, Feb. 14 — Valentine's Day — from 4 to 8 p.m, Pagliacci Pizza is giving away two slices per customer at all locations. They will offer slices from four of their most popular pies: Original Cheese, Extra Pepperoni, The Italiano and The Hawaiian. The Edmonds location is at 10200 Edmonds Way and the Shoreline/Ballinger location, close to Mountlake Terrace and southeast Edmonds, is at 20059 Ballinger Way N.E.
We have had many restaurants open recently as well. Among them:
1) MOTO Pizza has been a West Seattle phenomenon and they recently opened in downtown Edmonds at 414 Main St. across from the Edmonds Theater. MOTO owner Lee Kindell proudly calls his 9 X 7 Detroit-style square pies Seattle's "Odd Pizza." They are open Wednesday-Sunday from 4-9 p.m. for takeout only (no delivery either). They do not take phone orders and you have to place your orders online months in advance. They do have some pizza available for walk-ups, but you have to get there right when they open at 4 p.m.  One of the most popular pies is Mr. Pig, which includes MOTO cheese blend, Lechon Kawali (Filipino Pork Belly), Spicy Pork Sausage, Onion, Calamansi Lime Sauce and Mr. Pig Sauce. They do have vegan pizza options and also sell soft-serve ice cream in eight rotating flavors.  Prices for the pies range from $14-$29. Here is the link for online ordering but they are not accepting orders right now!  www.toasttab.com/moto-edmonds-414-main-st/v3.
2) Pok Pok Thai Kitchen is located in the Westgate QFC complex at 22814 100th Ave. W. in Edmonds. They are in the space where Amata Thai Cuisine used to be.  They are not associated with the very famous and unfortunately closed Pok Pok in Portland, Oregon. Their phone number is 425-967-3467 if you want to order takeout. Their menu is extensive. Hours are Tuesday-Friday, 11 a.m.-3 p.m., 4-9 p.m.  Saturday, and noon-9 p.m. Sunday. They are closed on Monday.
3) Sushi Hana just opened in Lynnwood at 18500 33rd Ave. W.  The number for takeout is 425-582-0322. But the allure for this restaurant is missed if you don't eat there, since they use a touch-screen tablet for ordering and a monorail system to deliver your specific order. They also use robots to manufacture some of the food, such as rice balls and maki. Here is the menu. Hours are Tuesday-Thursday, 11 a.m.-8:30 p.m.; Friday and Saturday, 11 a.m.-9 p.m. and Sunday 11 a.m.-8:30 p.m.  Closed on Monday.
I will be offering full reviews for these new restaurants, but meanwhile please go out and try them. Send me your feedback or post it in the comments.
Switching gears, I want to provide an update for Fire and the Feast, which the FeedMeHospitality Group opened in November 2020. At the time, due to the pandemic, they were offering takeout only directly from their front windows located at 526 Main St. in Edmonds.  They now offer a classic (with a twist) Italian dining experience in a beautifully renovated space that was bustling on a Friday night. They call it "PNW Italian Comfort Food." The dining room and spacious bar were very busy, so I highly recommend that you make reservations. They are open Tuesday to Sunday from 4-9 p.m. and have a happy hour from 4-6 p.m. with specials for food and drinks. Check out the full restaurant menu.
Fire and the Feast has classic Italian dishes as well as pizzas, so there is something for everyone's taste and budget. However, it does lean toward being pricey and it's easy to run up the bill since even most wines are $12-$20 per glass. We tried their fried calamari and artichoke appetizer ($15). It was fried perfectly and the chili aioli that accompanied it was perfect as was the roasted and chilled lemon.   We chose two entrees to share: the Lobster Manicotti ($36) and the Pork Osso Buco ($36) with crispy Brussel sprouts. Both dishes were very rich (made me think that maybe we should have ordered one of their salads as a starter) as well as generous in portion size.
Thank goodness we could take home the leftovers because there were plenty! One big change to Fire and the Feast is that they no longer make their pasta in-house. I imagine that they could not keep up with the pasta demand as they became busier. All of the pasta comes from Lagana Pasta in Seattle. The pasta wrap for the manicotti was delicious and the dish came to the table bubbling with an impressive amount of lobster. The sauce was lush with cream, fontina, ricotta and grana padano. which is probably why we could only eat half! The Osso Buco was falling off the bone luxe and sitting atop a pile of crispy roasted Brussel sprouts seasoned with aged balsamic, sultanas, apple mostarda and toasted hazelnuts. I wish that the pork had been served with some mashed potatoes or soft polenta to offset the richness of the meat.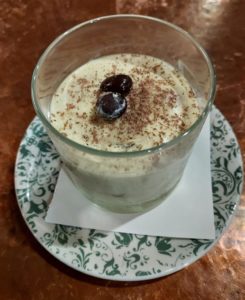 Yes, we saved room for dessert and had their "deconstructed" tiramisu served in a low ball glass ($11). The taste was divine but the presentation was a miss. I prefer to see the luscious layers and textures of a tiramisu and this version was more like a pudding than a true tiramisu. We had two glasses of a wonderful Pinot Gris from Oregon that was on special.
Fire and the Feast offers vegetarian and vegan options as well as gluten-free options. They will be offering a Valentine's Day three-course special for $65, which is a very good value.
Choose one option from each course:
Antipasti
1) Arancini Funghi:  blue oyster mushroom, pomodoraccio saffron aioli, pecorino, fried sage
2) Steak Tartare:  champagne vinaigrette, egg yolk, shallot, capers, cornichons, dijon, anchovy, toasted focaccia
3) King Oyster Mushrooms: marinated hearth-roasted king mushroom, roasted root veg puree, fried parsnips, Calabrian chili gremolata
Entrée
1) Elk Loin: sweet onion jam, roasted root vegetable, salsa verde, fried parsnips
2) Black Cod: salsify puree, romanesco, shaved radish, lemon, micro greens, harissa
3) Lobster Risotto: Maine lobster, arborio rice, citrus fennel salad, Calabrian chili gremolata
4) Gnocchi: brown butter, blue oyster mushrooms, roast butternut squash, sage (stracciatelli and vegan butter for vegan)
Dolce
1) Torte Tenerina: chocolate, almond, bing cherry mascarpone
2) Gelato: Nutty Squirrel selections
3) Tiramisu: mascarpone mousse, coffee liquor-soaked lady fingers
4) Crostata: stone fruit compote, citrus crème anglaise
Please let me know about restaurants that I should mention in future columns. I want to celebrate all the dining options in our neighborhoods. Happy Eating!
—  By Deborah Binder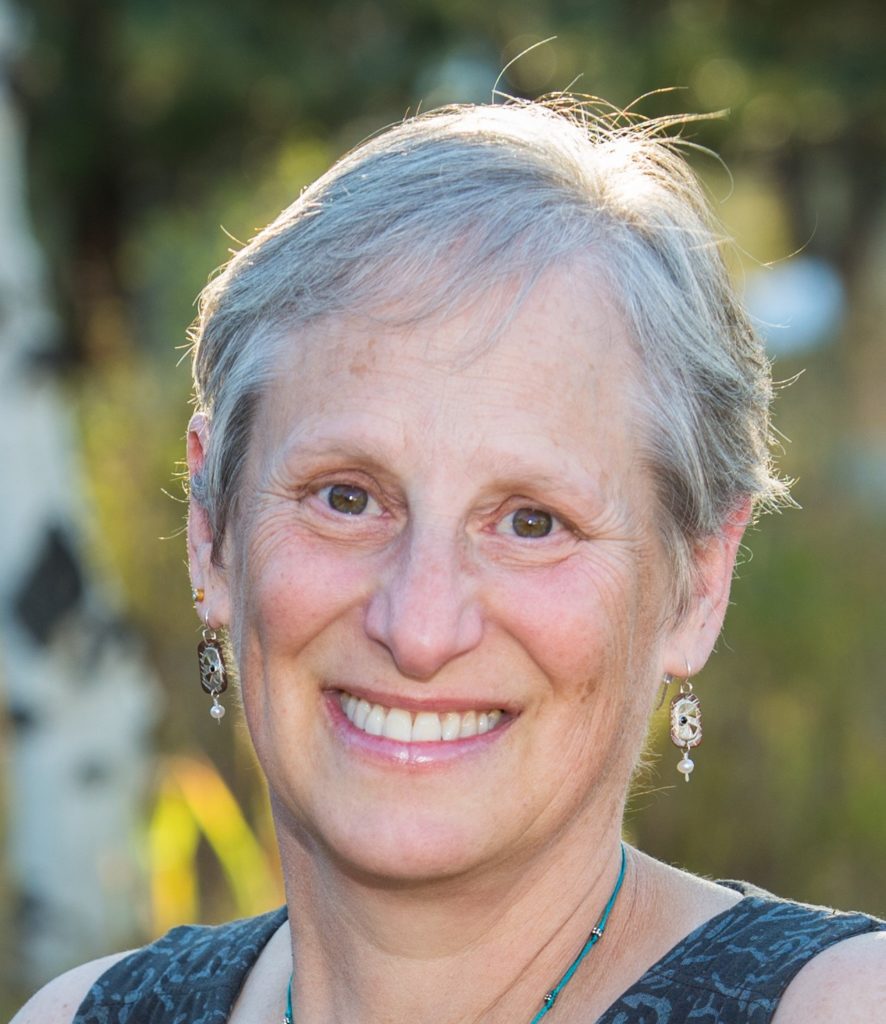 Deborah Binder lives in Edmonds with her family. She is "dancing with N.E.D." (no evidence of disease) after being diagnosed with ovarian cancer in 2009. She is a foodie who loves to cook from scratch and share her experiments with her family and friends. She attended culinary school on the East Coast and freelances around town for local chefs. Her current interest in food is learning to eat for health and wellness, while at the same time enjoying the pleasures of the table. As Julia Child once said, "Everything in moderation including butter." Deborah can be contacted at jaideborah@yahoo.com.