Shake Shack at the Alderwood Mall opened almost three weeks ago.  This is a restaurant chain that has its roots in New York City via St. Louis.
Danny Meyer, the founder of Shake Shack, grew up in St. Louis, enjoying iconic food from Ted Drewe's Frozen Custard and Steak n'Shake.  While he started out as a fine dining restaurateur in NYC with Union Square Cafe and Gramercy Tavern as part of the Union Square Hospitality Group, Meyer created Shake Shack as a way to bring the roadside burger joint to the masses.
The first Shake Shack opened in 2001 as a hot dog stand in NYC's Madison Square Park to fund local art projects.  Its success spurred a new fast-casual-restaurant chain that is now a publicly traded company:  www.nasdaq.com/market-activity/stocks/shak.
I have to say up front that this location is still working out the kinks.  Unfortunately, like so many local eateries, Shake Shack was understaffed.
They have a very busy drive thru line with two lanes available for cars — but those two lanes funnel into one ordering window, so you'll have to be very patient while waiting in your car when the place is busy.
At 7 p.m. Friday the ordering line was out the door and there was only one person taking orders at the counter. They have a bank of kiosks where you can order without a human but only one of them was working on a busy Friday night.
I tried to order at the kiosk but ended up being a victim of a new scam I did not know about. The person who ordered at the kiosk before me did not pay for their order. When I started using the kiosk to order the screen said to put in my credit card and that's when I ended up paying for someone else's order.
There was no indication that I was paying for an existing order, I mistakenly thought that I had to start by putting in my credit card. Thankfully a very understanding and patient manager refunded me and took my dinner order.
In the future, I would highly recommend that customers place an order ahead of time on the website or on the Shack App and pick it up inside the restaurant. I think things would have gone much smoother if I had chosen the online option.
Once I placed my order, it took over 25 minutes to receive the food.  Again, I think the kitchen was slammed and understaffed. Since it was a beautiful "First day of fall" evening we ate at a table outside and a server brought us our tray of food.
The seating inside is comfortable but since they are short staffed it was challenging to find a clean table. In addition, for those of you who are noise-sensitive, the volume level inside is high.  It's not easy to hold a conversation inside, so sitting outside seemed like a better option.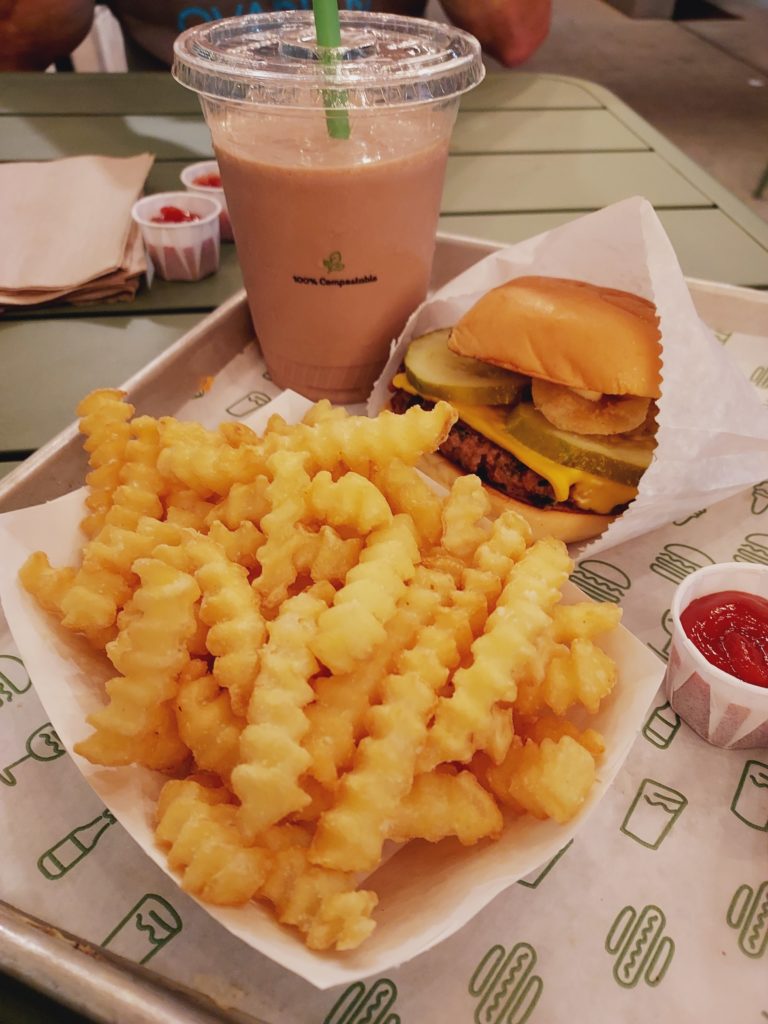 We ordered one chocolate shake and one chocolate malt ($5.99 each plus 50 cents extra for the malt) made with their frozen custard; one Chicken Shack sandwich ($8.59); one Veggie Shack burger ($8.89) and an order of crinkle fries ($4.09).
The  sandwiches were delicious and generous in size.  The chicken sandwich includes a fried chicken breast and comes with lettuce, pickles and an herb mayonaise. The veggie burger is made from mushrooms, sweet potatoes, carrots, and quinoa and comes with cheese, lettuce, onions, pickles and "Shack Sauce."
I was very surprised that the only cheese option is American cheese. I don't consider American cheese real food. I know some people think that is the only way to go with burgers, but I was hoping that Shake Shack's commitment to serving quality food would include cheddar cheese as an option.
The shakes were disappointing as they were thin and overly sweet. I grew up on Ted Drewes Frozen Custard in St. Louis so perhaps my expectations were too high.
The crinkle fries were a miss as well.  They were overly processed frozen fries that were underfried and oversalted.  I was surprised that they did not serve fresh-cut fries given their commitment to serving fresh food.
It is obvious there are many kinks to work out at this new Shake Shack location. I really wanted to love the place. I wanted to love the food. I love the concept and the intention.
Shake Shack's "mission to 'Stand For Something Good' includes taking care of our team, sourcing premium ingredients from partners with the same dedication to quality, designing our Shacks responsibly, supporting our communities through donations, events, and volunteering — and much more."
Did they live up to this mission on my first visit? In some ways they did, but I left feeling disappointed and underwhelmed. I hope that they make some changes to their staffing levels, and to their ingredients. I plan to check it out again in the future but I think some of our locally based burger joints will be getting my business. What has been your experience at Shake Shack? 
Note:  Through Nov. 30, the restaurant is offering a buy one, get one free Shack Shake from 2-5 p.m. if you order through the Shack App, online or in-Shack for pickup and use the code FAVESHAKE.
Address: 18800 Alderwood Mall Parkway, Lynnwood
Hours: Sun.-Thurs.: 10:30 a.m.-10 p.m;  Fri.-Sat.:  10:30 a.m.- 11 p.m.
— By Deborah Binder
Deborah Binder lives in Edmonds with her family. She loves to cook from scratch using produce from the gardens she created and maintains with her husband. She attended culinary school on the East Coast and focused on desserts, pastries and bread. She's worked for restaurants and caterers in the front and back of the house (kitchen) on both coasts. Her current interest in food is learning to eat for health and wellness, while at the same time enjoying the pleasures of the table. Deborah loves experimenting and developing new recipes. As Julia Child once said, "Everything in moderation including butter." Deborah can be contacted at jaideborah@yahoo.com.