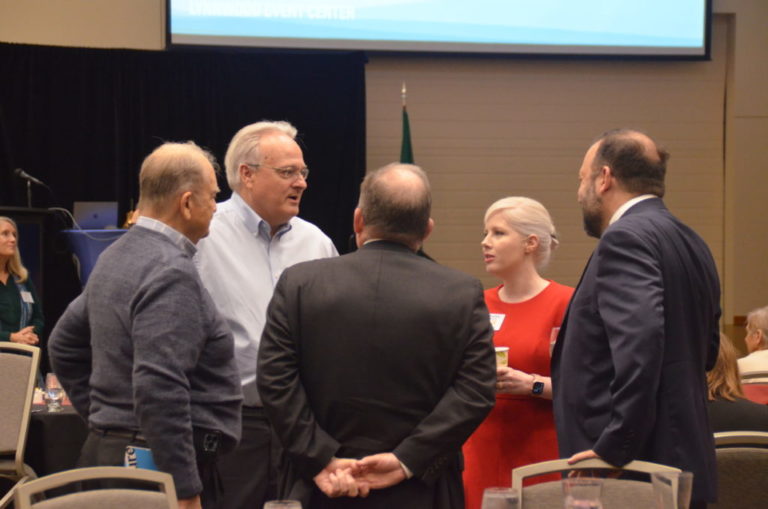 The Rotary Club of Lynnwood invited a special guest to their most recent meeting on Thursday, Oct. 5: Rick Steves, a well-known travel author, activist, radio host, television personality and philanthropist.
Quite a few members were personally acquainted with Steves — an Edmonds resident since 1967 — but all of the attendees knew about his contributions to the community. 
Opening with a joke, Steves spoke with a welcomed tone of levity. He spoke about many subjects, such as community projects and how his travel agency had fared during and after the height of the COVID-19 pandemic. 
"People were telling me, 'they won't be kissing cheeks anymore in Paris after this pandemic, I can tell you that.' Well, they're wrong; They're kissing cheeks with gusto in Paris!" Steves said.
Steves said he was relieved when he learned many of his favorite European small businesses, mostly those with community ties outside of tourism, were still open.
Steves said he was proud of his company's ability to be able to refund travelers whose plans were canceled during the sudden crisis. Similarly, the business had retained its employees despite its sudden loss of revenue. He acknowledged the travel industry's negative influence on the environment by implementing a self-imposed "Carbon Tax."
"This is nothing to brag about, this is nothing heroic," Steves said. "I wish the government taxed us for this, for our carbon tax, but it doesn't." 
A total of $1 million in funds are given to 10 nonprofit organizations benefiting farmers in the developing world. He called the assistance "the best million dollars"  he spends every year.
Steves also spoke with enthusiasm about the upcoming Lynnwood Neighborhood Center, which he described as a multigenerational piazza where people could come to support each other and those in need. 
"And do you think the need [in the community] is going to just go away? No. It's just going to get bigger," Steves said. "You think building a site like this is going to get more affordable down the road? No, this needed to be done now." 
Steves himself made a $3 million donation toward construction of the center. The $30 million project will provide a gym, a kitchen and a meeting space — among many other things — and is about 80% funded. 
Steves' connection with the Rotary Club is deep and long-persevering, so it was no surprise that the books he donated to the club were purchased by its members in mere minutes. The funds benefitted the Rotary Club of Lynnwood.
— By Jasmine Contreras-Lewis