Many community members spent their weekend with South County Fire learning how to save lives, during training events in Lynnwood and Edmonds. South County Fire has a goal of teaching 500 people CPR techniques during the month of May.
At the May 19 event in Lynnwood, participants learned about ACT, which stands for Antidote, CPR and Tourniquet. Antidote refers to using Naloxone – also known as Narcan – as a medication used to treat victims of opioid overdoses. In response to a rising number of fentanyl-related deaths, this medication can be mail-ordered by Washington residents for free here. Avoid leaving the medication in particularly hot or cold environments as that will reduce its effectiveness.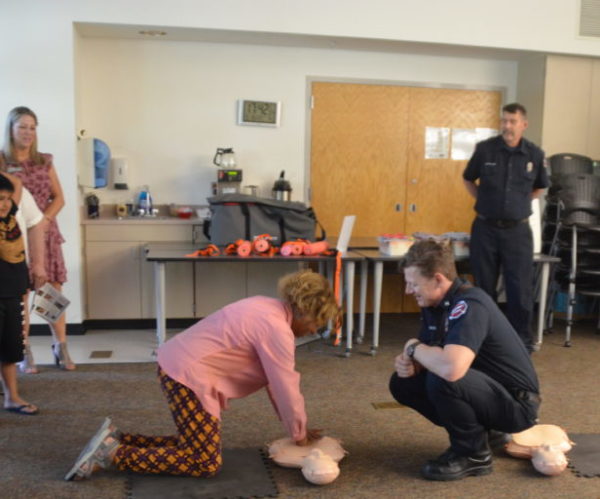 CPR is a technique that requires a person to perform continuous chest compressions on an individual whose heart has stopped in the interim between calling 911 and the arrival of first responders. Attendees were given the opportunity to practice the technique and were also instructed on the use of AEDs (automated external defibrillators), which give audible instructions for individuals attempting to restart a heart. AEDs are found in many public buildings such as schools and libraries. 
Finally, a tourniquet is a constructed device used to cut off blood flow if an individual is at risk of losing too much blood from a traumatic injury. While tourniquets are becoming more widely available in first aid kits, people can also use shirts or belts as makeshift devices in an emergency. 
You can learn more about ACT on South County Fire's website. 
— Story and photos by Jasmine Contreras-Lewis