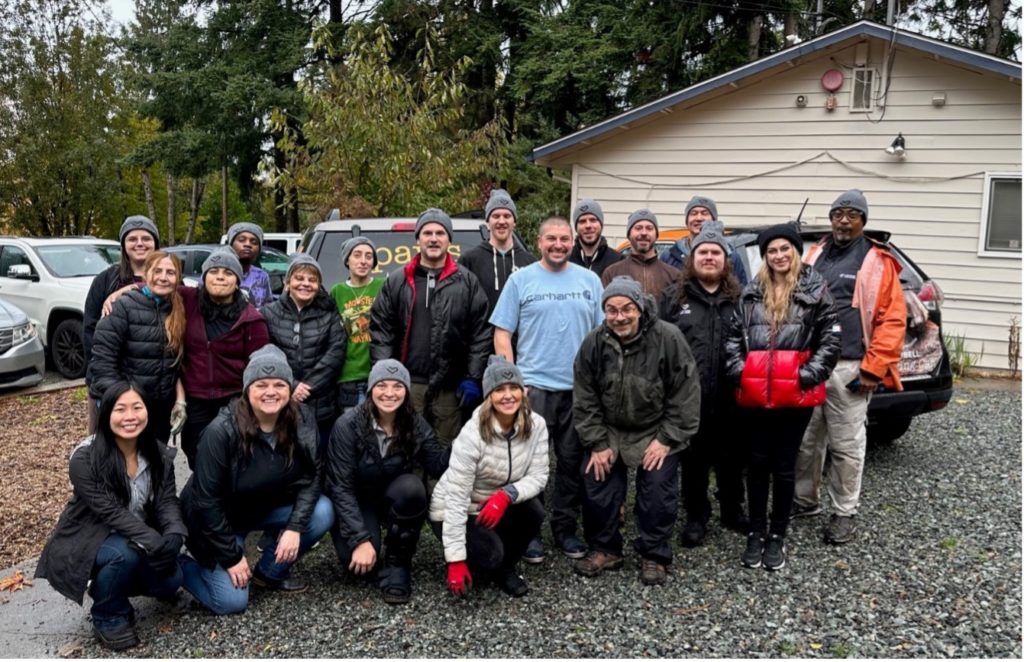 The Lynnwood Event Center is proud to announce the return of its beloved November tradition, Caring Hearts Month. This month-long celebration is a testament to our commitment to giving back to our community, recognizing the contributions of our nonprofit partners, and extending a helping hand to those in need.
Caring Hearts Month will feature an array of events and activities aimed at making a positive impact in our community. Highlights include:
Food Drive for the Lynnwood Food Bank: Join us in our effort to support the Lynnwood Food Bank by dropping off non-perishable food items in the main lobby of the Lynnwood Event Center during our standard business hours (Monday-Friday between 8 a.m.-5 p.m.) or when we have events on evenings and weekends. The Lynnwood Food Bank serves low-income families and distributes over 1.3 million pounds of food annually. For most needed items to donate, please visit lynnwoodfoodbank.org
Staff Volunteer Day: Our staff will spend a day volunteering at PAWS, a local animal shelter, assisting with improving the property and lending a helping hand to our furry friends in need. We will also be collecting donations for the entirety of November from PAWS' online wish list, which can be found at paws.org/donate/wish-list/
Veterans Day Luncheon and Service Fair: On Nov. 10, The District will host "Heroes Among Us" in partnership with the City of Lynnwood, held at the Lynnwood Event Center. This special luncheon and service fair will honor our veterans and provide valuable resources to those who have served our nation. To register for this free event, please visit https://ilovelynnwood.com/heroes-among-us/
Community Outreach: We will be delivering breakfast pastries to the staff and guests at the Lynnwood Senior Center in order to brighten spirits and spread neighborly cheer.
Additionally, during Caring Hearts Month, we'll be showcasing several of our nonprofit clients on our social media platforms. This serves as an opportunity to shine a spotlight on the remarkable work these groups are accomplishing in our community.
"Caring Hearts Month is a testament to the incredible spirit of our team," said Erin Jepson, General Manager of the Lynnwood Event Center. "This initiative reminds us that our greatest strengths lie not just in the events we host, but in the empathy and compassion we share."
The Lynnwood Event Center is owned by The District and operated by OVG360, a division of Oak View Group.
About Lynnwood Event Center
The Lynnwood Event Center is a premiere event venue located 15 miles north of downtown Seattle. The $31 million facility, which opened in 2005, is owned by the Lynnwood Public Facilities District (now known as The District), and operated by OVG360, a division of Oak View Group. With 34,000 square feet of flexible space that can accommodate large meetings, weddings, galas, seminars, corporate gatherings, auctions, product launches and private parties of up to 650, the Lynnwood Event Center is dedicated to creating authentic, innovative, and inviting experiences in its unique facility for all to gather and enjoy.
About The District
The District is a special municipal district that oversees the operation of the Lynnwood Event Center and the surrounding property. For more about The District, including future plans for the property, visit thedistrict425.com.
About OVG360  
OVG360, a division of Oak View Group, is a full-service venue management and hospitality company that helps client-partners reimagine the sports, live entertainment, and convention industries for the betterment of the venue, employees, artists, athletes, and surrounding communities. With a portfolio of more than 200 client-partners spanning arenas, stadiums, convention centers, performing arts centers, cultural institutions, and state fairs around the globe, OVG360 provides a set of services, resources and expertise designed to elevate every aspect of business that matters to venue operators. Service-oriented and driven by social responsibility, OVG360 helps facilities drive value through excellence and innovation in food services, booking and content development, sustainable operations, public health, public safety and more.