Three public commenters prompted questions by Lynnwood City Councilmembers during Monday's public hearing about updates to Lynnwood's Essential Public Facilities (EPFs) policy.
Essential public facilities (EPFs) are a category of necessary facilities that can be difficult to site, such as airports, waste management facilities and schools. By law, EPFs cannot be treated differently from one another. Under new state legislation responding to the opioid epidemic, opioid treatment programs, like other substance abuse facilities, are now classified as EPFs. City leadership cannot prevent their operations. 
Following public outcry over an Acadia opioid treatment center that was opened in January, the council tasked Lynnwood's Business and Development Services Department to determine what legislative actions it could take to manage drug abuse treatment facilities. Meanwhile, the council placed a six-month moratorium on the opening of new treatment centers.
During controversy about Acadia's facility, many community complaints stemmed from a lack of transparency from the company and the short notice provided by its outreach staff. Most focused on its location less than 500 feet from the Alderwood Boys and Girls Club. Councilmembers were limited in what actions they could take and said they were blindsided by the first public hearing, which was held during the busy holiday season about a month and a half prior to the clinic's opening. 
The new draft policy passed through the Lynnwood Planning Commission and was presented to councilmembers at their Monday work session the previous week. The draft policy has three goals: To increase communication with the community and Lynnwood leadership, to adhere to new state laws introduced during the 2023 Legislative session and to make it easier for EPF applicants to know what they must do. The new law dictates that outpatient treatment facilities are considered essential public facilities.
Commenter Jason Moore spoke about his grievances with the Acadia clinic's opening in January, then voiced his concern about the types of facilities that he believed could be added to the list of EPFs in future state legislature. 
"One of the RCWs [laws] mentioned… harm reduction programs, disorder treatment facilities, mental health facilities, group homes, community facilities and secure community transaction facilities. So here we're talking about inpatient substance abuse, but what will we be talking about tomorrow or what is next in the plans? To set up more of these facilities?" Moore asked that the planning commission tape and share its meetings. He also said that the council should extend the moratorium. Finally, Moore claimed that new legislation could allow minors to end up in facilities without their parents' knowledge. 
Vivian Dong, who rose to prominence in Lynnwood as a result of the protests she organized against the Acadia facility, said she thought it was a shame that the state was trying to take power away from the community. She asked how the city could implement ongoing monitoring of the clinics. 
"We are seeing an increase of abandoned vehicles near the Boys and Girls Club. Residents have communicated that they called Lynnwood Police and Snohomish Sheriff a couple times, waiting to get their vehicles towed. The doctor in the same building communicated that there has been occasional misparking and there has been a larger issue with cigarette butts." Dong also claimed that Acadia "got rid of" the security guards hired and is attempting to put an end to the community meetings they agreed to hold.
Lynnwood Today reached out to Acadia Healthcare's Regional Vice President, Dan Hymas, to confirm Dong's statement. 
"That statement that we no longer have security at the facility is incorrect. We continue to  contract with our security vendor and they continue to provide security at our facility," Hymas replied.
Lynnwood Times owner Mario Lotmore, who specified earlier in the meeting that he was speaking as a member of the public rather than as a news reporter, drew attention to the harm-reduction programs listed within the ordinance.
"I just want the public to be aware that harm-reduction programs, depending on the city or state that it's implemented, can include giving drugs and needles to people. You can look in Portland, looking in Vancouver, British Columbia. Also, if you recall, the federal government was in a scandal last year regarding this; I think they were giving meth and cocaine in their harm-reduction programs. So I just saw that and I just don't know if that's an open door to potentially giving out drugs or drug paraphernalia to people under the guise of harm reduction," Lotmore said. His claim generated concern from some councilmembers about the nature of a harm-reduction program.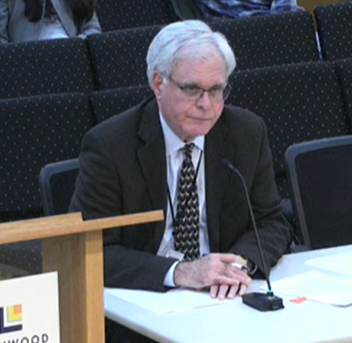 Business and Development Services Director Kleitsch did not offer any response to public testimony.
"I understand that Acadia is still having their [monthly] third-Thursdays, 5 p.m. meetings still," Council President Shannon Sessions said, "Is it in the current ordinance – the new current ordinance– to address ongoing monitoring, like that has been suggested?"
Kleitsch affirmed that the ordinance allows for the establishment of terms and conditions, so that would include a monitoring program, outreach, meetings and requirements of a similar nature.
Sessions asked Kleitsch what the legislation said about harm-reduction programs.
"I have no idea what was said about harm reduction. But they [the harm-reduction programs] are captured in the essential public facility ordinance as I understand it," Kleitsch continued, "But I can't speak if they're giving cocaine on a daily basis." He also said that the programs would have to abide by federal law.
"And then finally, just a comment that was made, as far as conditions. I, too, would be concerned when we're talking about children, underage folks," Sessions said. "I'm more concerned about underage youths abusing opioids. So I, knowing family, other people in the community who have children who unfortunately have either died or are abusing opioids or addicted to them. They would do everything to get them in one of those opioid treatment facilities, even if they could force them to be there so I doubt that most families would [refuse treatment]. I'm just saying it's kind of funny-ironic to say don't let them go there but instead they're on the street wasting away as an opioid addict. 
That's more 'not OK'. so I'm just weighing the 'not OKs' here. I'd rather them be there in the opioid treatment center." Sessions added that, in her recent conversation with the Alderwood Boys and Girls Club, they had "nothing but good things to say about Acadia" and that despite the rough start, Acadia had gone above and beyond with regards to safety.
Councilmember Jim Smith asked for clarification from City Attorney Lisa Marshall, who confirmed that the facilities' health care operations of are regulated by the state and federal governments.
"From that question and comment, thank you, but they do have to follow federal law. So federal law prohibits marijuana, as example, or cocaine they [the clinics] cannot circumvent federal law and provide that as part of their services?" Smith asked Marshall. The city attorney replied that she did not know because it was not her specialty. Smith asked if she could research this and get back to the council at the next business meeting. 
"I will defer to the council to see if others wish for me to undertake that. It's not a short task," Marshall said, adding that in her experience, tasks that may seem insignificant can quickly turn into a rabbit hole. 
During continuing debate about the research required, Marshall referenced an item on the agenda concerning mounting attorney fees and said that she would need the council body to weigh in about the request. 
Mayor Christine Frizzell asked if they could have the conversation later, when they were discussing the agenda item. 
"No," Smith replied. "So what I mean, I understand the other agenda item, the problem I'm having right now is: you are our resource and all of us are amateurs up here and even if someone is saying that we are overusing– let me rephrase that– even if we are going beyond what our budget is, it's important for us to have good legal advice."
The subject was not immediately resolved, although immediately after the public hearing was closed, further council debate resulted in a vote on whether the council would task Marshall with research. The vote failed 5-2, with Councilmembers Smith and Patrick Decker voting in favor. 
During his comments on the subject, Councilmember George Hurst said that it was his understanding that harm-reduction programs were things like needle exchange, which provides access to clean syringes and safe disposal of used needles for those with substance-abuse disorders. Hurst suggested that the council could invite the state legislators who sponsored the related bill (HB5536) to clarify Smith's question.
In other business, the council allocated American Rescue Plan Act (ARPA) funding to three projects. They began the evening with $144,177 to disburse. Two of three grants were unanimous. 
The first item approved was a $10,000 request from Heroes' Cafe, which will provide food and hotel stays to Lynnwood veterans in need. 
Next approved was a $50,000 request from Lynnwood's Parks and Recreation Department, which will install fencing around Gold Park as part of its disc golf project. One goal of the project was to use good behavior and more foot traffic to decrease antisocial behavior in the park. 
The item passed in a 5-2 vote, with Councilmembers Hurst and Josh Binda voting against. Hurst objected to the use of ARPA funds and wanted to fund the project through a budget amendment instead. He said that other community causes requesting ARPA funds were very important. Both Binda and Hurst agreed that renovations to Gold Park were beneficial, but that the funding source should be different.
The final request for ARPA funding was $150,000 from Homage Senior Services, which would benefit its Center for Healthy Living and Multicultural Center. The facilities provide assistance to seniors and those with disabilities. For example, seniors without transportation can benefit from the ride service, event programming, bilingual outreach staffing and health services. 
In his motion to provide funding, Hurst said that the council could not provide the full $150,000 requested by Homage but the cause was important so the amount was cut to $75,000. Other councilmembers commented that they had the exact same idea and had been planning to do the same thing. 
The council ended the evening with $9,177 in ARPA funds remaining, though it is possible that some earlier requests may end up costing less than expected, which would result in a "refund" of the leftover money that had been allocated.
Public comment around appointments to the board of the Lynnwood Public Facilities District (PFD, also known as the District) continued for the third business meeting in a row. 
In April, the council appointed Dong to a temporary position on the PFD board. A few months later, during a July 11 meeting, the PFD held a vote of no confidence in Dong. It was initially unclear whether the vote of no confidence by the PFD board was a binding removal, as there was no precedent or guidelines for it. While members are appointed by the city council, the PFD is not part of the City of Lynnwood, and its purpose is to act in the best interests of its associated local businesses and tenants.
Dong has stated on social media that the action taken against her was racist and that she was being retaliated against because she supported a June protest involving transgender issues.
Mary Kae Repp, the District's marketing consultant, talked about past allegations of inappropriate conduct by Executive Director Janet Pope toward Dong during the recent District-sponsored Lynnwood Luau event. Repp, who volunteered at the District's booth that day, stated that Pope did not attack or make racist comments toward Dong and that Dong showed up unexpectedly with an entourage, gave misinformation regarding the purpose of funds donated to support Maui and refused to leave.
Former Edmonds Mayor Dave Earling, who chairs the Snohomish County Public Facilities District Board, stated that the work done by the District was critical to economic success in Lynnwood, bringing in millions for the city and was poised to create new momentum for the city with its developments downtown. He said that "now is not the time for the board to be distracted or in chaos." Earling also said that there will always be those who use board appointments as a stepping stone to push their agenda and urged the council to engage with the District about its board appointments.
Addressing her presence at the Lynnwood Luau, Dong said that during her District onboarding, she had been told that it was imperative that board members engage with the public at events. She claimed that although the District had claimed to provide training for the luau's volunteers, they were using this to exclude her. Dong added that she was speaking Chinese and that those who claimed Dong was spreading misinformation wouldn't be able to understand her. 
Glen Bowers stated his opinion that the District never wanted Dong in the first place and that she never had a chance. He once again decried the use of social justice tactics. He asked that the council retain its powers in electing District board members. 
Of the 11 commenters, six spoke in favor of the District and five spoke in favor of Dong. Three other public commenters asked that the council honor the Edmonds City Council's request to open conversations about an unincorporated area currently under dispute.
Zach Bloomfield requested that what is being unofficially referred to as the "Meadowdale neighborhood"– a residential area containing 47 homes located near the southern boundary of Meadowdale Beach Park– be removed from the Lynnwood Municipal Urban Growth Area. 
The growth area itself is a portion of land appropriated by Snohomish County for use in Lynnwood's future expansion plans. More than 60% of the homeowners in the currently unincorporated area recently signed a petition seeking annexation by the City of Edmonds.
Despite mixed reception to the proposal in an earlier meeting , the council on Monday night unanimously passed a motion to begin discussing annexation plans with the City of Edmonds.
In other business, the council discussed the rate at which it is currently utilizing the services of City Attorney Marshall. Councilmembers heard that Lynnwood is expected to use over 60% of its biennial budget during the first year, leaving less than 40% for the second budget year. Speaking to Smith's earlier concerns, Sessions agreed that she also valued reliable legal input. She suggested that the council implement a system that checks to make sure no redundant requests are made. At this point, the meeting had run for nearly three hours and councilmembers still had to attend two executive sessions after the public meeting. Given the time, Smith motioned that this item be brought to a work session for discussion at length, which was approved unanimously.
Finally, the council made proclamations acknowledging Indigenous Peoples' Day and Domestic Violence Awareness Month. It also approved Sodaba Tarshi and Heena Ahmed for appointments to Lynnwood's Diversity, Equity and Inclusion commission.
— By Jasmine Contreras-Lewis