We ended the month of January on a dry note, but not before we amassed 3.95 inches of rain at Paine Field. This was very close to normal, ending just 0.06 inches above average.
The first couple days of February have continued in this dry pattern but — in the typical Northwest winter fashion — the dry weather is quickly ending and being replaced by a wetter pattern.
The first system was expected Friday afternoon, bringing rain as usual, but the wind will be the primary impact. A wind advisory was in effect from 10 a.m. to 7 p.m. on Friday: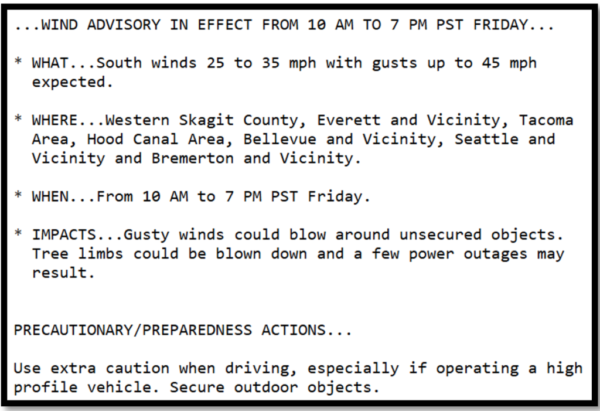 The reason for the stronger winds with this system is the tight pressure gradient associated with it, which can be seen in the model depiction below.
When the pressure gradient is tight, meaning there's a large pressure difference over a short distance, winds tend to be stronger. Notice how tight the black lines (or isobars—lines of equal pressure) are. When looking at a map with isobars, a tight gradient is a pretty good indication that it'll be windy.
Wind gusts may exceed 40 mph with this storm, so make sure to secure any loose objects outdoors that may be easily swept up by wind.
The rain totals for this system aren't looking to be anything out of the ordinary for a wintertime storm with a tenth to a quarter of an inch expected.
Another system arrives Saturday and, as a result, more rain is expected. The warm front will lead to rain Saturday during the day with the cold front following Saturday night into Sunday. Rain should generally begin to taper off and turn more showery as Sunday progresses.
There is the chance that we will see a brief break in the rain on Monday, but at this time the chance of showers remains. As we continue through the week, the active pattern sticks around with chances of rainfall for pretty much every day.
Have a great weekend!
— By Kelsie Nelson
Kelsie Nelson is a meteorologist and recent University of Washington graduate who grew up in Lynnwood and now lives in Kenmore. After writing weather blogs as a KOMO News intern, she discovered a passion for writing about weather. You can learn more in her blog www.wxnoggin.com and you can also follow her on Twitter at @kels_wx3. Questions can be directed to Kelsie at kelsie@myedmondsnews.com.