May is just about wrapped up and meteorological summer is just around the corner—officially starting June 1. It's hard to believe that summer is nearly here… and that 2021 is almost half over! In my eyes, Memorial Day oftentimes signals that summer is upon us, and here we are.
The final storm of May passed over the area on Thursday, bringing with it periods of heavier showers and an occasional lightning strike. It is possible that showery conditions will continue at times through Friday morning, but we should dry out by Friday afternoon. After this, we are expecting a dry stretch of weather to continue through the holiday weekend.
An upper-level ridge is expected to take shape over the region which will lead to dry conditions in the coming days. At this time, this ridge is anticipated to strengthen over the course of the weekend. You can see this ridge in full swing for Sunday in the image below.
In terms of temperatures, each day is expected to get successively warmer, potentially peaking Tuesday or Wednesday. Highs in the 70s are likely by Sunday, despite some possible scattered cloud cover. Get those summer clothes ready!
Memorial Day is looking to be very pleasant—a welcome sight for those planning to be outdoors. Some clouds are possible, but high temperatures are still looking to be in the low-to-mid 70s. And we will be dry.
The ridge is expected to stay in place for much of the week. By midweek, it's possible that we could see our first recorded 80-degree day of the season at Paine Field. It is important to note that despite warmer air temperatures, water temperatures are still quite cool. Cold water shock causes drownings every year, especially early in the season when the water temperatures are cooler. For those wanting to seek refuge from the warmth by going swimming, it is a good idea to wear a lifejacket when swimming in water deeper than what you can stand in—no matter how good of a swimmer you may be.
The infographic below from NWS Seattle emphasizes this idea:
It is great when the weather cooperates for holidays when people like to be outdoors, but it is important to remember what this weekend is truly about and to be thankful for the sacrifice that people have made for our country. I hope everyone takes a moment to reflect on this at some point this weekend.
Have a wonderful Memorial Day weekend, everybody. Summer is upon us!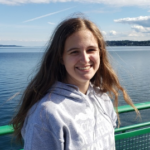 — By Kelsie Knowles
Kelsie Knowles is a meteorologist and recent University of Washington graduate who lives in north Lynnwood. After writing weather blogs as a KOMO News intern, she discovered a passion for writing about weather. You can learn more in her blog www.wxnoggin.com and you can also follow her on Twitter at @kels_wx3.