It is the most wonderful time of the year! Winter is finally here, at least to meteorologists and other weather enthusiasts, and it makes me excited for the possibility of scenes like the picture above. Meteorological winter officially arrived Dec. 1, ahead of its astronomical counterpart. (You can read more about meteorological and astronomical seasons here: https://www.ncei.noaa.gov/news/meteorological-versus-astronomical-seasons)
Before proceeding, let's recap our meteorological autumn, using data obtained from Paine Field. The temperature and precipitation snapshots are shown below.
In terms of precipitation, we ended with just under 10 inches of total accumulated rainfall after a dry start to the month of September. This is just a bit below normal for this time period. The above graphic also shows the record high and low totals for the same time span. Just a few years ago, in 2016, we registered a whopping 16.41 inches! If you compared that value to the total normal precipitation for the whole year, it would account for about 45% of the yearly normal total, in a span of just three months.
An interesting thing to note from the precipitation graph is that the "normal" line, which is the brown color, increases in steepness as time goes on. This suggests that it is normal for days later in the season to see more rain than earlier in the season. This is consistent with the fact that our "wet season" tends to begin in November.
So far, the first few days of meteorological winter have been nice and dry, thanks to a ridge of high pressure over the region. You can see this ridge in the image below.
This ridge will remain in place for Friday and for much of Saturday. Pockets of morning fog are possible Friday, so if you have a commute that takes place outside of your home and you encounter some fog, be sure to drive with extra caution. Any areas of fog that forms should clear up, making way to another beautiful day.
Much of the day Saturday should also be nice, but the ridge will begin to break down as a relatively weak front heads into the area Saturday night. As a result, there is a chance of showers late Saturday through the night. Nothing crazy is expected in terms of any accumulated rainfall.
Some residual showers are possible early Sunday, but overall, we should be dry for the majority of the day as another ridge builds. It's looking like a very pleasant weekend to enjoy the great outdoors.
Below is your weekend forecast summary.
After this weekend, some models are suggesting that the rain could make a comeback, starting Tuesday. However, there are discrepancies between different models, so nothing is a for sure thing at this point. For now, the chance for a bit wetter weather next week exists, but exactly when rain falls and how much is still up in the air.
With potentially wetter weather next week, take advantage of the nice weather over the next few days! Have a great weekend.
— By Kelsie Knowles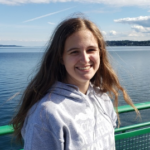 Kelsie Knowles is a meteorologist and recent University of Washington graduate who lives in north Lynnwood. After writing weather blogs as a KOMO News intern, she discovered a passion for writing about weather. You can learn more in her blog www.wxnoggin.com and you can also follow her on Twitter at @kels_wx3.